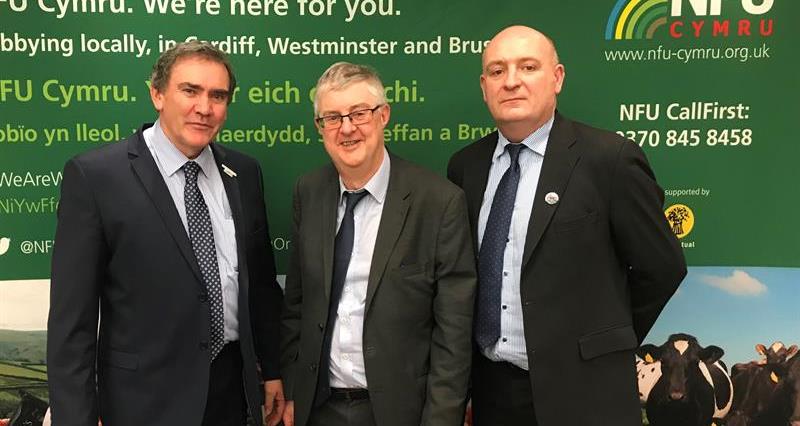 New First Minister for Wales, Mark Drakeford, set out his views on Welsh agriculture and the potential impact a 'No deal' Brexit could have on the sector when he spoke to NFU Cymru Welsh Council members in Cardiff.
During his address to members at the NFU Cymru Welsh Council meeting on Monday 21st January, Mr Drakeford stressed the importance of UK Government securing a good trading relationship with the UK's biggest market.
Mr Drakeford underlined his wishes to see the UK stay in the Customs Union and strike a deal that allowed for the greatest possible access to the EU Market. He also stated that he did not want to see an arrangement that saw tariffs and non-tariff barriers imposed on Welsh produce. A wide-ranging speech also saw the First Minister talk of his hopes for a fair movement of people prospectus and highlight the importance of a future transition period, should any deal between the UK and the EU be struck.
On the subject of future funding for the Welsh agricultural industry, the new First Minister reaffirmed the Welsh Government commitment to ring-fence funding for agriculture that Wales will receive from the UK Government in future. The First Minister also said he would do his best to deliver a multi annual funding mechanism replicating the way that EU funding is currently delivered to Wales.
NFU Cymru President John Davies said: "We were pleased that the new First Minister for Wales, Mark Drakeford, was able to make time in his busy schedule to come and speak to our Welsh Council members.
"It was encouraging to hear that we share similar views to Mr Drakeford on key issues around the Brexit negotiations, namely around trade access and our concerns over the impact of a 'No deal' Brexit on rural Wales. It was also good to hear Mr Drakeford make a strong commitment for financial support for farming to be ring-fenced and his wish that this be delivered on a multi annual basis. We are grateful for this clarity and support.
"During the meeting our members were keen to underline to the First Minister that this is a successful and dynamic industry that is delivering for the people and communities of Wales. We look forward to working with the First Minister to help this productive, profitable and progressive sector achieve its ambitions for jobs, growth and investment in Wales."