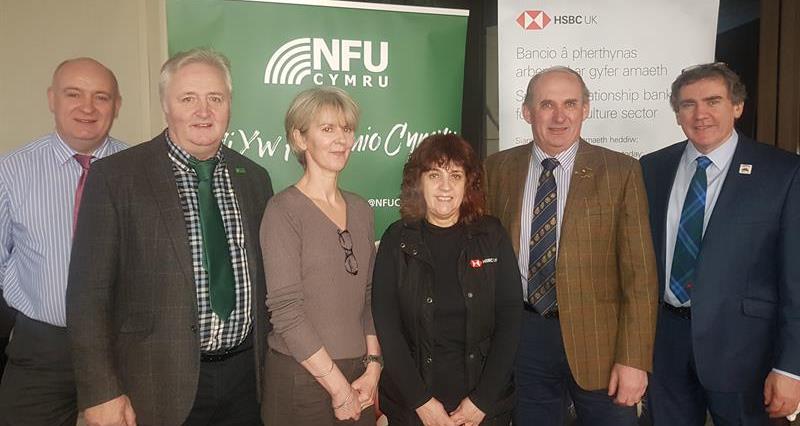 "There's never been a more important time for us to be talking about net zero and setting such an ambition for the agricultural industry", says Dr Ceris Jones, the NFU's Climate Change Adviser.
Dr Jones made this statement at the recent NFU Cymru Brecon & Radnor County Conference whilst discussing NFU Cymru and the NFU's aspiration to reach net zero greenhouse gas emissions across the whole of agriculture by 2040, as a contribution to the UK's 2050 target.
Since the 2015 Paris Agreement called for a balancing of greenhouse gases and sinks, countries have responded with many setting net zero targets. "We thought the time was right to set our own net zero ambition," said Dr Jones. "It puts us on the front foot, gets us in front of policy makers and sends the message that Welsh and British farmers want to produce the most climate friendly food in the world.
"We're already doing a good job; emissions from UK beef, for example, are half that of the global average. In addition, our grassland soils, hedgerows and trees are good carbon stores. However we realise there is always more that we can do."
Dr Jones explained that a comprehensive approach across the whole UK economy is needed, and when it comes to farming we need to focus on the whole agricultural system. Dr Jones highlighted the three pillars to achieving net zero agriculture; the first involves boosting productivity and reducing emissions, the second is related to farmland carbon storage and the third pillar is about boosting renewable energy and bioenergy production.
Dr Jones said: "Pillar one, which equates to 25% of our aspiration, has something for all business types, it's a diversity of measures that best fits your farm. We're in the business of marginal gains when it comes to farming so if we can all get better at all those little things this will really get us on that road to net zero.
"The second pillar, which also equates to 25% of our aspiration, focuses on practical opportunities to store more carbon on farmland. This might be fitting trees into the farming business e.g. through shelter belts or wind breaks, growing larger hedges and managing grassland soils to increase carbon stores.
"The final pillar is about boosting renewable energy. UK farmers produce renewable energy that helps power an average of 10 million UK homes. We can do more but we need policy to unlock this opportunity.
"Agriculture is in a great place to set our stall out and really show what we can do to help the UK become a net zero carbon economy."
Dr Jones concluded: "We know we can't achieve this target alone. In order to realise this ambition we will need government and other stakeholders to join us on our journey. We have a sense of urgency about this, so we want to see a range of policy measures and practices encouraged to allow our industry to achieve its climate change objectives."
Aled Jones, NFU Cymru Deputy President also addressed the conference and reiterated the NFU and NFU Cymru's aspirations. He said: "We have a clear ambition to be the most climate friendly country in the world. We need to stand together on this, every business will benefit from productivity, carbon sequestration and renewables. Let's position ourselves in a place where we are number one."
During the conference, Rob Lewis stood down after two years as Brecon and Radnor NFU Cymru County Chairman and welcomed Geraint Watkins to the role.
NFU Cymru would like to thank HSBC UK for sponsoring the series of 11 county conferences across Wales.