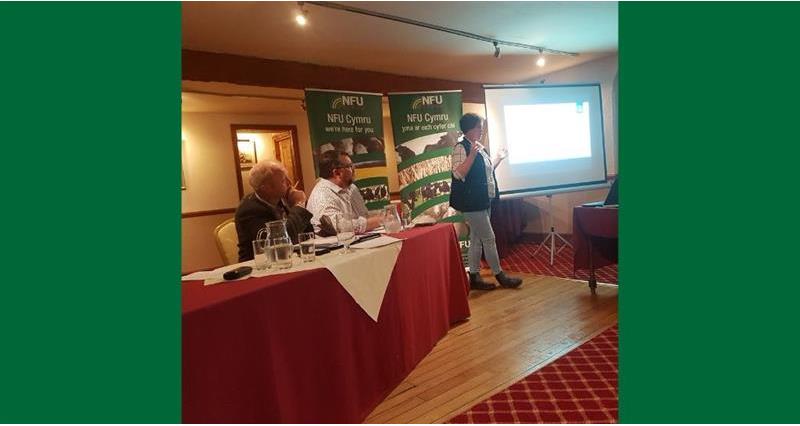 NFU Cymru members in Clwyd met recently and heard from NFU Cymru Livestock Adviser, Dafydd Jarrett and Lowri Evans, from the British Wool Board.
The meeting began with a tribute to Dafydd Jones, Clwyd County Chairman who sadly passed away earlier this year, with Paul Williams leading a minutes silence in his memory.
Dafydd Jarrett gave an update on several current aspects of livestock policy. He told members that the threat from the EU of the need to double tag all lambs under 12 months, except those going directly to abattoirs, had been revoked due to NFU lobbying. He said a new cattle database will replace the Cattle Tracing System (CTS) in the next few years. Now that the Minister has made a decision to develop a separate database in Wales, NFU Cymru is working hard to ensure it will be easy to access and totally compatible other movement databases in the rest of the UK.
A consultation on Bovine EID is expected before the end of the year. As part of the consultation the question will be asked on a start date (probably sometime in 2020) and what grace period is required for cattle already tagged with conventional tags. Clwyd members suggest that 30 months would be appropriate.
Discussing TB, Mr Jarrett explained that NFU Cymru is continuing to lobby Welsh Government to address the problem in wildlife. A discussion ensued around the cause of an increase in the disease in the Wrexham area, with the chair of the North Wales bTB Eradication Board suggesting that cattle movements were a factor. Current evidence would support his view, and Mr Jarrett stressed the importance of risk based trading in making decisions before buying in cattle.
Moving on to another cattle disease, he stressed benefits of BVD screening of herds, and encouraged members to take full advantage of the current BVD scheme in Wales to identify, and remove, persistently infected animals where they are found. On the issue of sheep scab, the Minister has announced a £5m fund available to help with its control. However, government have yet to announce any details about the scheme. He also made members aware of an upcoming Milk Contract consultation that is expected in the coming weeks.
Following Mr Jarrett's presentation, Lowri Evans, of the British Wool Board, spoke to members in attendance. Ms Evans, who is based in the Ruthin depot of British Wool, told members that the depot processes 700 to 800,000kg of wool each year and transports wool to Newtown to be graded.
She told members that in recent years, there has been a delay in payments for farmers; however with the new role she has been given, British Wool hopes to speed payments up to 24 hours. This will be facilitated by a payment based on this year's weight but last year's grading.
Ms Evans also told members that on average, British Wool pays more than its competitors and adds value by undertaking numerous other roles including marketing the product. She said that they are looking to enhance the market in China, which equates to 25%, to ensure a better price for producers. Members were told that in order to make this possible, British Wool has appointed a Sales Manager in China to increase sales and build on the research and development.
Finally, Ms Evans asked members to support the #ChampionWool marketing tool which will be launched this year to enhance the UK market support of British Wool.
Paul Williams, NFU Cymru Clwyd County Chairman said: "I'd like to thank Dafydd Jarrett and Lowri Evans for coming along and speaking with us. Dafydd spoke about many issues that affect us all regularly and I'd like to thank him, and the NFU Cymru policy team, for their hard work in lobbying to ensure we are given the best opportunities as farmers. I'm sure we will all also get behind the British Wool campaign when it is released."