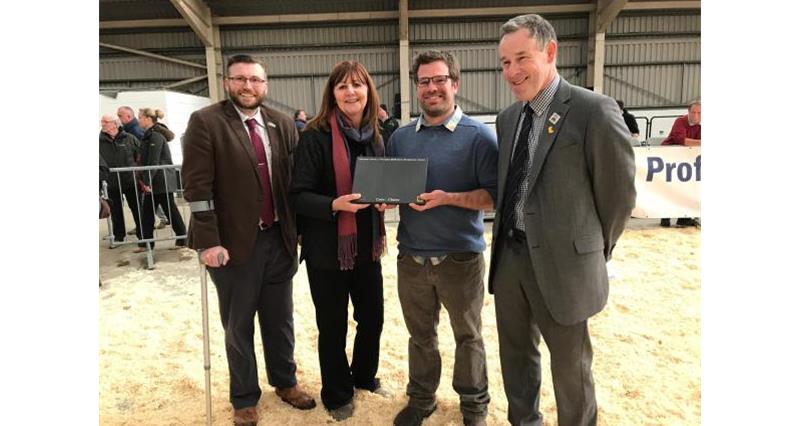 Adam Jones from Llandysul in Ceredigion has been announced as the winner of the 2018 NFU Cymru / NFU Mutual Welsh Dairy Stockperson of the Year Award at today's Welsh Dairy Show.
The competition, now in its seventh year, recognises the important contribution a good dairy stockperson can make to a dairy enterprise, as well as the wider Welsh dairy industry.
During a presentation at the Welsh Dairy Show today [Tuesday 30 October], Adam was presented with the top prize of £500 and a Welsh slate engraved cheese board by Cabinet Secretary for Energy, Planning and Rural Affairs, Lesley Griffiths AM and NFU Cymru Milk Board Chairman, Gareth Richards.
Adam was born and raised on the family farm in Synod Inn, Llandysul and from a very young age has taken a keen interest in the management of the dairy herd.
After graduating from Harper Adams University in 2004, Adam returned home to work in partnership with his parents. He later took over as head of the holding in 2013 and has helped grow the business from 120 milking cows to the current herd of 380 milkers, as well as converting from a split autumn/spring calving partner to a fully spring calving herd.
~ ~ ~ ~ ~ ~ ~ ~ ~ ~ ~ ~ ~
~ ~ ~ ~ ~ ~ ~ ~ ~ ~ ~ ~ ~
Adam manages the herd, which is made up of predominately Friesian and Jersey x Friesian. They also have a further 120 in-calf heifers and 126 young stock, all under 12 months old.
The control of costs is critical to the whole system and grassland management is another key aspect of the business. Adam takes regular measurements of the grass and the careful and judicious application of nutrients and fertiliser is fundamental to the success of the enterprise.
The herd operates a tight calving pattern to ensure optimal efficiency and returns and is routinely vaccinated for BVD and Leptospirosis. They also test for Johnes though screening and sampling of individual milk samples by NMR.
Speaking after the presentation, NFU Cymru Milk Board Chairman Gareth Richards said: "I would like to congratulate Adam on winning this award. It was very refreshing to see a young person show such care and meticulous attention to ensuring the health of his animals, as well as milk production, was of the best quality. Adam has also been an excellent advocate for the role the next generation can play in the future of our industry, developing a number of aspects of the family business since taking control of the holding."
Robert Thomas, NFU Cymru/NFU Mutual Group Secretary, added: "This award is about highlighting the fact that Wales has some of the finest, most passionate stockpeople that you will find anywhere in the world. Adam ticked every box that we were looking for so it's pleasing that we've been able to showcase his contribution to the industry with this award."