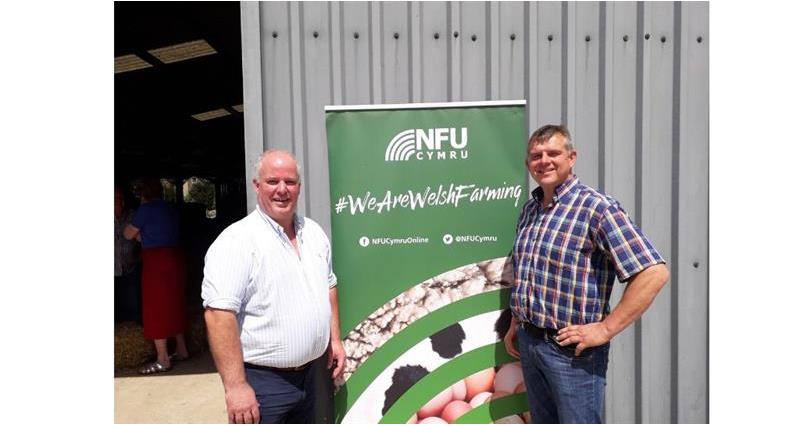 NFU Cymru members on Anglesey had an opportunity to meet up with Andrew R T Davies AM, the Welsh Conservative Party's spokesperson on the Environment and Rural Affairs, during his recent visit to County Chairman Brian Bown's Trewyn farm.
Mr Bown, who runs a mixed operation including beef, sheep, arable and contracting, hosted a cross section of members that reflected the wide range of farming enterprises that can be found on Anglesey farms.
Brexit was a dominant subject within the meeting, with much attention being given to the threat of a 'No deal' scenario and its resultant risks of high tariffs on both beef and lamb exports. Mr Davies was clear that 'No deal' should remain on the table and that his ultimate wish would be to ensure that we do all that is possible to negotiate a deal prior to leaving the EU on October 31st 2019.
The need for tenancy reform was highlighted in light of the proposed changes outlined in Welsh Government's Brexit and Our Land consultation, where it was likely that reform of tenancy legislation will be needed to secure an opportunity for tenant farmers to access some of the proposed public good schemes. Mr Davies noted that a healthy tenants sector was vital to the industry by providing an opportunity to progress along the ladder from smallholdings to the larger farms.
Another local issue that had been dominant during the spring was the worrying of livestock by dogs and particularly why so little progress was being made by Welsh Government in making this a key issue. Mr Davies responded that he had been part of a cross party group on the matter and that they were seeking a change in legislation to assist with such cases.
Representatives of both the beef and dairy sectors at the meeting questioned whether current legislation was sufficiently robust to protect the interests of the primary producer in Wales and the UK. Members called for legislation to be strengthened around this to ensure that the consumer can be confident that where product is described as being Welsh, British or produced to specific standards there can be no grey areas and the high quality and standards of production we adhere to should be protected.
Mr Davies said: "It is good to meet up with farmers who are committed to their industry. I have witnessed a passion amongst all those present today to ensure that we work to secure a strong future for agriculture in Wales. We have covered a wide range of issues that haven't all been limited to farming.
"I would urge anyone who has an interest in the future of farming and our rural communities, whatever their political views, to seriously consider standing in the Welsh Assembly elections. There are few representatives there who have a wide experience of farming to represent these communities."
NFU Cymru Anglesey County Chairman Brian Bown added: "I'd like to thank Mr Davies for taking the time to meet with us today. We seem to be an industry that is faced with a wide range of issues that challenge us on a daily basis. It is good to know that we do have people representing us in Cardiff Bay that know and understand our industry."