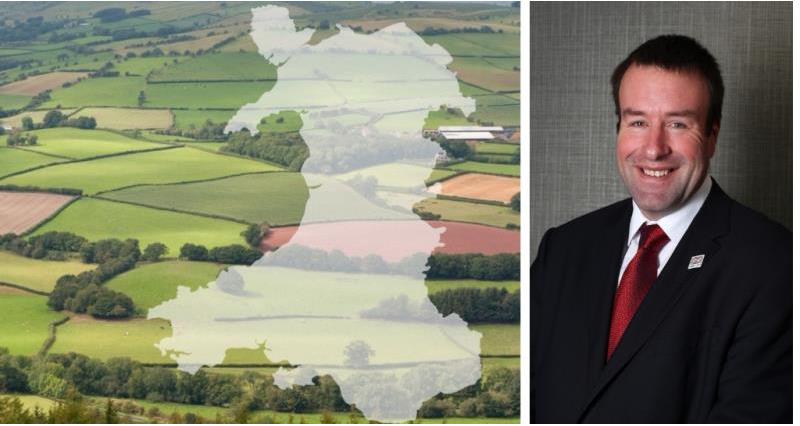 Stuart Roberts, NFU Vice President will be the guest speaker at the Brecon and Radnor NFU Cymru AGM.
At the meeting, which will be held at the NFU Cymru Office, Royal Welsh Showground, Llanelwedd, on Monday 12th November at 7.30pm, Stuart will address members on his work within the Union as well as talking about his life as a farmer.
Stuart farms 400 hectares in Hertfordshire and Kent in partnership with his wife, Emma and father, Howard. A third generation arable and livestock farmer at Hammonds End Farm, Harpenden, Stuart has also worked for Defra and the Food Standards Agency, and held senior management roles within the meat supply chain.
The farm incorporates around 300 hectares of combinable crops, supplying grain to more than 50 artisan mills and bakers throughout the UK. The remaining land is predominately permanent pasture and a small amount of woodland. The farm includes two cattle herds; a commercial Simmental / Hereford herd, producing 14-month-old store cattle, and a small, but growing, pedigree herd of Hereford cattle. The business also includes a small flock of laying hens.
Stuart has served as Hertfordshire NFU County Chairman since 2015, and has served on both the East Anglian livestock, and combinable crops board. Stuart was elected as NFU Vice President in February 2018.
Robert Lewis, NFU Cymru Brecon and Radnor County Chairman said: "I'd like to thank Stuart for agreeing to come and speak with us at our AGM, and I look forward to hearing about his work. We will also have a round up on the consultation work that the Union has undertaken. All NFU Cymru members are welcome at this meeting so please come along and bring your friends and neighbours."