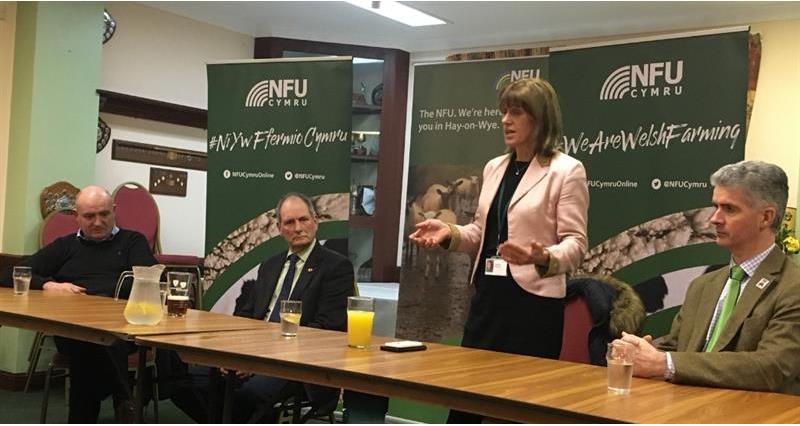 Pictured are NFU Cymru President John Davies (left), Derek Williams NFU Cymru Rhosgoch Branch Chairman, NFU President Minette Batters, and NFU Cymru Hay on Wye Group Secretary Jonathan Cassidy
Rhosgoch NFU Cymru Branch recently welcomed Minette Batters, NFU President to their routine branch meeting to get the latest update on Brexit.
Minette Batters said: "I have asked the Secretary of State, Michael Gove to commit to ensuring that any future new trade agreements will not undermine British food standards. Put simply, a commitment that after Brexit, the food Britain imports will be produced to the same standards which are legally required of British farmers.
"And when I say standards, I mean all of the high standards British farmers observe – often at considerable expense – in protecting the environment, safeguarding animal welfare and providing safe food.
"We have also got so used to free and frictionless trade – the Dover to Calais route sees 11,000 trucks every day to deliver 'just in time deliveries'. And then there is the issue of tariffs, the last thing we want is zero tariffs on imports which could displace our own home grown produce."
Stressing that a strong farming industry goes hand-in-hand with a strong environment, Mrs Batters gave more detail about the NFU's ambitious plans to tackle greenhouse gas emissions and for British farming to aim to achieve net zero by 2040. A drive to improve and invest in productive efficiency, incentivising carbon capture from the atmosphere and biofuels to power carbon capture storage systems are all part of the strategy.
John Davies, NFU Cymru President said: "We are deeply frustrated and disappointed that nearly two and a half years after the referendum we are no closer to finding out the details of our future relationship with the EU and what trading environment we could be operating under in the future.
"It is absolutely unacceptable for agriculture to be left with this level of uncertainty. We have repeatedly said that a 'No-deal' scenario would be catastrophic for farming, but political events have created further doubt and uncertainty. I cannot emphasise enough the importance of getting this right for the farming industry as a whole."