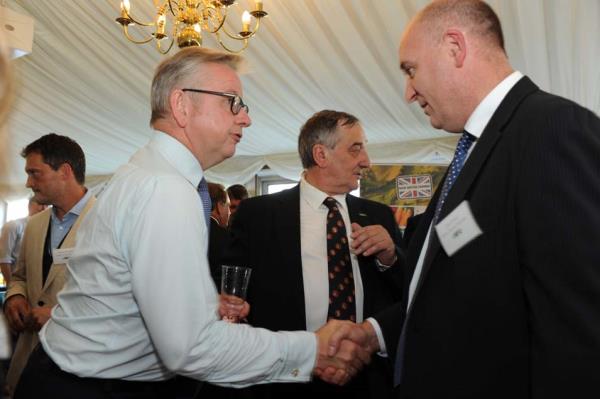 The NFU Cymru London office organised a Summer Reception at the House of Commons on 20 June which attracted Welsh and English MPs as well as the full ministerial team for Defra.

The event was the first of its kind to take place since the General Election and provided the perfect opportunity for the farming sector to place itself in front of parliamentarians from all parties.

The newly appointed Environment Secretary Michael Gove, who spoke at the event, reinforced that Brexit must be a success for British farming and that he wanted an open and frank dialogue with the NFU.

NFU Cymru Deputy President, John Davies said: "This event was the perfect opportunity for us to push our key messages to influential decision makers across all parties and I was delighted to have received such strong support from Welsh MPs . I discussed NFU Cymru's priorities with each Welsh MP and asked for their support in what is set to be a pivotal two years for the industry.

"As a team we were able to put across clearly the priorities for our industry, including positive trade deals, access to a competent and reliable workforce, regulation based on sound science and a domestic agricultural policy that works for Wales and Britain.

"The event presented me with my first opportunity to meet with Michael Gove and I raised a number of key points in addition to our Brexit asks, including the need for clear country of origin labelling. British famers produce products to world-leading standards, they adhere to strict environmental and animal health and welfare regulations and so it's important that the labelling of products on the shelves reflect this.

"Consumers consistently tell us that they want to buy Welsh and British produce and this is why we're calling for clear and unambiguous country of origin labelling so these consumers have the opportunity to make an informed choice.

"It was pleasing to hear that Michael Gove agreed with this point and spoke so positively about British farming, and I look forward to working closely with him in the future."

Welsh farming is the cornerstone of the food and drink sector worth £6.1 billion, it employs 58,300 people and provides the backdrop to the £2.8 billion Welsh tourism industry. Therefore it's vital that the industry is recognised by Government for the massive contribution it makes to the well-being of Wales.