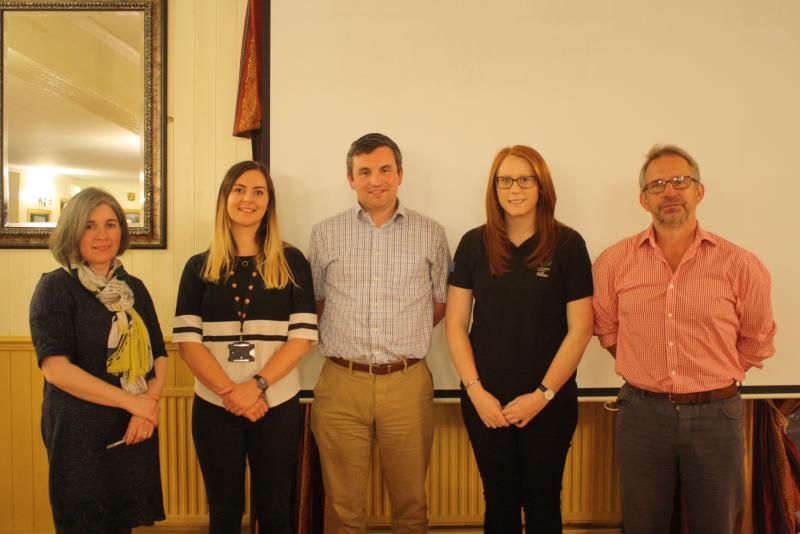 Pictured areNFU Cymru Environment and Land Use Adviser Rachel Lewis-Davies; Megan Herbert-Evans and Ioan Williams, both of National Resources Wales; Carys Thomas, Farming Connect; and David Gravell, NFU Cymru Carmarthenshire vice-county chair
NFU Cymru members in Carmarthenshire discussed the issues surrounding water quality, with particular emphasis on the River Tywi catchment area, at a recent county meeting.
At the meeting, held at the Halfway Inn, Nantgaredig, on Monday, 4th June, NFU Cymru Environment and Land Use Adviser Rachel Lewis-Davies gave an update on water quality in the county.
Rachel told the meeting that the evidence shows there are a range of issues and sectors that influence water quality in Wales and that farming had a vital role to play, alongside other sectors, in contributing to improved water quality.
Rachel said: "After the prolonged wet winter, the level of scrutiny on farmers in Carmarthenshire has increased greatly, with farming in the county in the headlines as a result of numerous reports of pollution incidents related to agriculture. At NFU Cymru we are working hard to ensure that appropriate support is put in place for farmers in terms of advice, guidance and investment measures to help deliver improvements in water quality. The risk of further regulation remains firmly on the agenda.
Members in the audience raised numerous issues with Rachel as well as with representatives present from Farming Connect and from National Resources Wales, who were also in attendance.
David Gravell, NFU Cymru Carmarthenshire Vice-County Chair, who chaired the meeting, said: "I'd like to thank Rachel, as well as our other guest speakers, for attending the meeting and discussing this very important issue with us.
"While there are many factors that impact on water quality we have to accept that agriculture is responsible for a proportion of these incidents and as farmers we all have a responsibility to address this issue. NFU Cymru is working with farmers to ensure that we see a reduction in the number of pollution incidents attributable to agriculture. One pollution incident is one too many and by working together, with other organisations, we can ensure that we work towards a voluntary approach that delivers improvements on water quality, without the need for additional regulation."