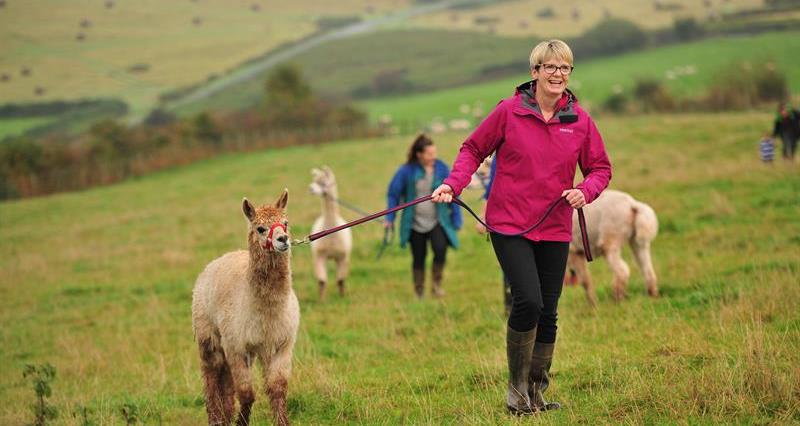 Despite a bit of spitting, a lot of screeching and some lying down in protest, the Bishop family are ready to launch their alpaca walking business. Farming Wales' Clare Williams went along to the Breconshire farm to meet Nick and Louise and hear all about 'Alpaca my Boots'.
Nestled in the heart of the Brecon Beacons National Park, Blaenrheon Farm has been the home of Nick and Louise Bishop and their family for the last 19 years. On the 280 acre tenanted hill farm, which neighbours the Mynydd Illtyd Common, the Bishops farm hardy speckled and mule sheep and a mixture of suckler cows including Angus, Hereford, Belgian Blues, Salers, Limousin X Charolais.
Nick said the time had come when it was necessary to think about diversification options. "Because we have a rented farm, we considered options that wouldn't involve huge investment in the buildings or too much capital outlay, but something that could also be run alongside the working farm. Brecon is a very touristy area but we didn't want to go down the holiday accommodation route."
It was Louise, who works as a midwife in the local area, who had the idea of alpaca trekking. She said: "I'd seen a feature about alpacas on Countyfile and also a clip between programmes on BBC Wales, showing people llama trekking. I suggested it to Nick who thought I was mad but I found a Travelzoo deal for alpaca trekking in Warwickshire, so I insisted that we went and gave it a try, while keeping an open mind."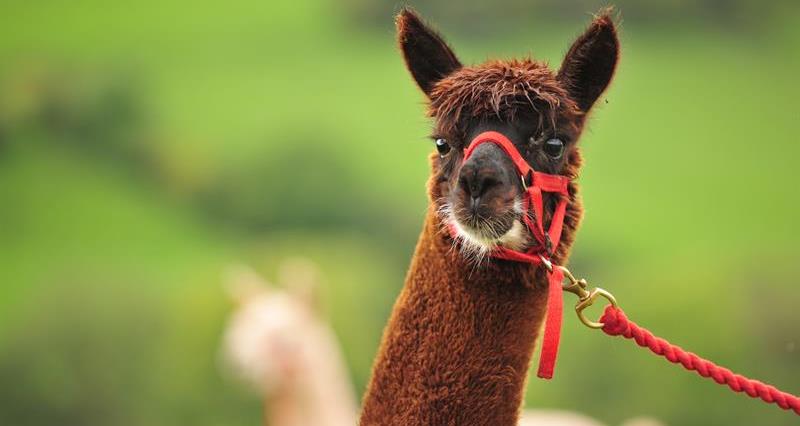 It was after this that Nick came on board with the idea and the couple agreed to re-home six alpacas. Nick said: "We've spoken to a lot of people all over the UK who have alpacas and everyone was really friendly and helpful. We took possession of our original six alpacas and from then on there really was no turning back."
Louise added: "In one part of the country they were being used to guard stock. And we've learnt already that you cannot bring a dog into the field with them. They mix with the sheep brilliantly and are really protective."
The Bishops now have 20 alpacas altogether, 17 males, known as machos, and three females, or hembras. Nick said: "Handling and training has been a steep learning curve for us and the alpacas. They're not like any other animals we've ever come across. They're wild to start with but very curious. They can't be tempted by food either. I'd say they are a bit like a cross between a deer and a donkey – stubborn and wild!"
Louise added: "They had to get used to human contact as well. It took us a while to get to know them and learning about each one's temperament and behaviour because they are all different. Some of them took four weeks to train, others have taken significantly longer! Each animal is so different personality wise. We spent the summer evenings training them and our friends and neighbours came up and helped three times a week. Some nights I'd come home from work and alpaca trekking would be the last thing I'd feel like doing but it's actually really relaxing, they definitely have a calming and therapeutic nature.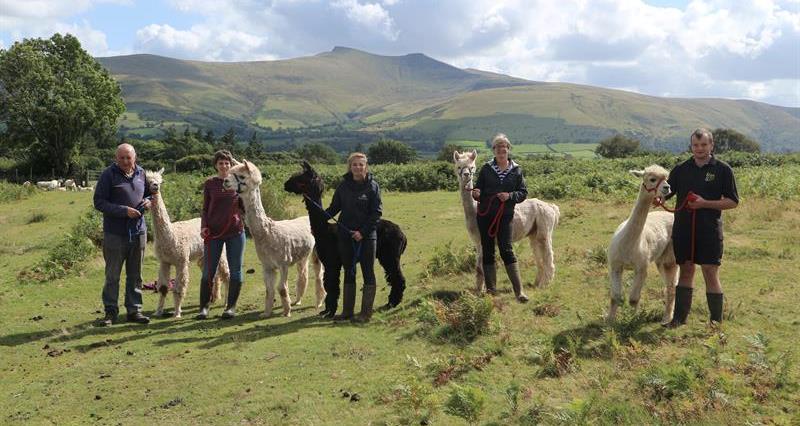 "We had to work through a lot of protests. There was spitting, screeching and lying down and not just from the alpacas! But we finally managed to arrive at a middle ground and got used to each other and the boys are now walking well."
The Bishops now have 14 male alpacas ready for trekking and Nick said: "They're really adventurous and love to explore new territory and are very inquisitive. We'll only walk the males. We have three females to breed from as we think one or two babies, called cria, each year for visitors to admire, will add to the experience."
Louise added: "It should be a much easier process than lambing as the alpacas only give birth between 9am and 12 noon. So it'll be a doddle."
The alpacas all live out in the field and although they will need some shelter when it's really wet, the cold should not pose too much of a problem as in the mountains of Peru they can be exposed to temperatures of -30 degrees.
The Bishops have a mixture of breeds of alpacas – suri and huacaya. Nick said: "The suris are the stronger breed but they also have a bit more attitude. Alpacas can live for 20 to 25 years and they love a mud bath as well as water. They also always draw uphill so you will always see them at the top of the field."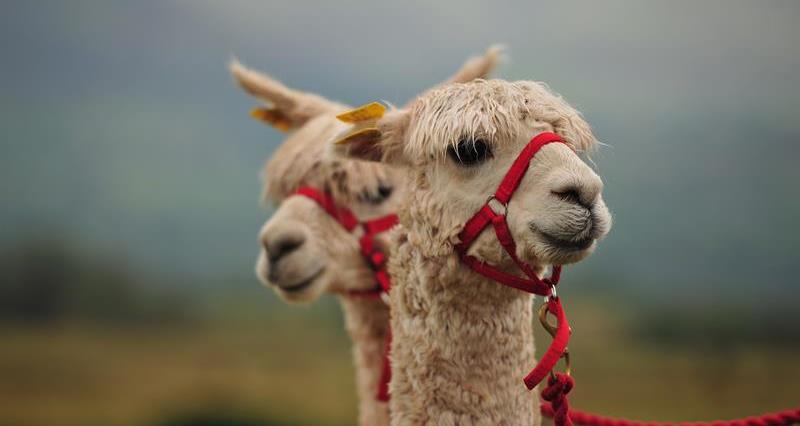 The Bishops are now taking bookings for alpaca treks and Louise outlined a typical walk. "We'll start with a health and safety talk before giving the history and background of the alpacas, then we head out to meet them. The treks will be escorted and will incorporate points of interest on the farm and the surrounding area which is of historical and archaeological significance. Visitors will also be able to take in the spectacular views of the Brecon Beacons, Black Mountains and Usk Valley."
Nick added: "We're hoping to have a bit of a 'rogue's gallery' so there'll be head shots of the alpacas with a bit of information about them so that visitors can pick one they want. We'll also match people up with the alpacas, dependant on size and temperament. We'll try to suit the treks to the be able to do the walks even if it's raining. Obviously if it's too heavy we'll have to cancel but light showers will be fine. If for any reason we do have to cancel people will have up to a year to re-book."
Louise said: "We have converted a shipping container into an office with toilets and hand-washing facilities and in time hope to have a little shop in there as well to sell alpaca merchandise. Their wool is fantastic and extremely warm. It doesn't contain lanolin, so it appeals to people who are allergic to sheep's wool. Potential customers will hopefully be interested in gift vouchers which are available in time for Christmas.
"In other parts of the country alpacas are used to help autistic children and taken into schools and old people's homes as well. There's also 'alpaca yoga'. We eventually intend to consider other ways of introducing the alpacas to events in the local area. We don't want to just be reliant on the treks to make this a success."
Nick and Louise's three children, Peter, who is studying business management at Liverpool University, Alice who is a nurse and Ellen who works in the horse racing industry with thoroughbreds, have all been involved with launching the business. Nick said the idea meant they could continue to farm. "It's been a way of making sure we can continue to farm here and continue to make a living by doing something different. Our landlord has been open to the idea from the start which is great to have had that support.
"Our three children don't have plans to come home to farm but they have all loved being involved in the training of the alpacas. I think they thought it would be easy but they had a bit of a shock, especially Ellen who is used to working with horses."
Nick and Louise praised the help of Farming Connect and Menter a Busnes. Nick said: "We had a visit from Joe Lewis of Landsker Business Solutions and it was really helpful and reassuring to know we were on the right track."
Louise added: "We also attended the diversification day held on the Royal Welsh Showground and it was very insightful. We learnt that people want experiences nowadays so it was really useful."
Nick and Louise both said that they wouldn't have been able to launch their new venture without the help of friends and family. Nick said: "When I told my friends I expected some micky-taking but everyone has been so supportive. They've been curious but the support has been great."
Louise added: "We can't thank our friends and family enough. They have all given us their time and encouragement to help with the training process. We've had friends up here three times a week to do training walks with us and it simply couldn't have happened without their help. We are eternally grateful for their support."