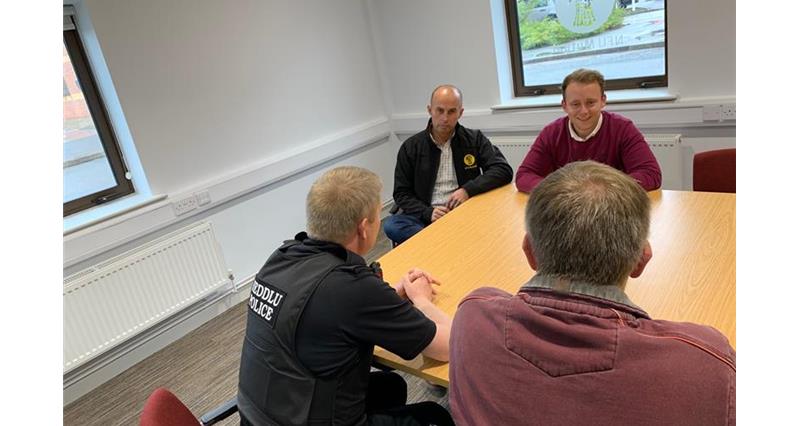 NFU Cymru/NFU Mutual staff from Wrexham met with officers from the North Wales Police Rural Crime team to discuss cattle thefts in the area.
Mark Roberts and Aled Jones, Group Secretaries from Wrexham were joined by two local farmers for the meeting with PC Dave Allen and PCSO Simon Griffith where the spates of cattle thefts in the area were discussed. The meeting was an opportunity to raise awareness of how these crimes are facilitated, how to apprehend perpetrators, and what can be done to prevent further cases from happening.
Mark Roberts said: "I'd like to thank PC Allen and PCSO Griffiths for taking the time to meet with myself, Aled and our members to discuss this on-going issue. The police were keen to learn more from the farmer's point of view about rural thefts, and to gain an insight of how cattle could be stolen, transported and hidden.
"It was a very useful meeting with expertise shared and possible tactics were discussed going forward, including the use of camouflaged wildlife cameras on gateways.
"PCSO Griffith also highlighted the importance of promoting the dedicated Rural Crimestoppers line to report any activity or information with complete anonymity. You can contact them by telephoning 0800 783 0137. I would urge you all to take note of any suspicious activity and to report anything, no matter how insignificant you think it may be, that is out of the ordinary. We need to work together to stamp out rural crime."