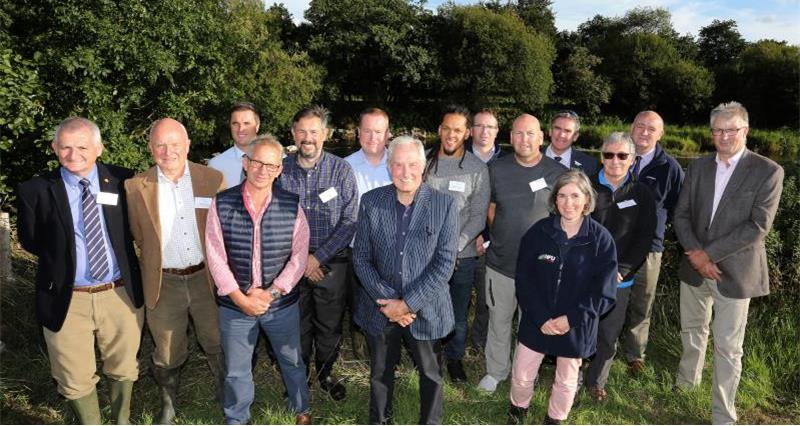 'Farmers and fishermen have a shared interest in the condition of our water courses and are committed to working together to maintain and enhance water quality in Wales'.
That was the message from NFU Cymru and the Carmarthenshire Fishermen's Federation at a special 'Rugby & Rivers'-themed farm walk and social evening held on-farm in Cwmifor, Llandeilo, on Wednesday 8th August.
Among those in attendance at the event was Carmarthenshire Fishermen's Federation President and legend of the British and Irish Lions and Welsh rugby, Sir Gareth Edwards, who stated the River Tywi was his favourite place in the world to fish and spoke passionately about his fond memories of fishing on the river over the years.
More than 200 people attended the meeting, kindly hosted by Rhydian and Robert Davies of Glanrwyth farm, which gave NFU Cymru the opportunity to champion environmental excellence among the sector. Host farmer Robert Davies highlighted the importance of nutrient management planning and proactive management of the soil structure to their business. An insight into the wider range of environmental work carried out as part of agri-environment schemes was also shared with visitors to the farm.
The farm walk then proceeded to the fields adjacent to the River Tywi where Carmarthenshire Fishermen's Federation Chairman Tony Loizou, showed visitors a water tray containing a variety of invertebrates and a shoal of minnows taken from the river just before the meeting. Tony explained their importance to the food chain upon which fish, such as trout, and birds, such as wagtails, dippers and kingfishers relied. The specimens were returned to the river.
Creighton Harvey of Carmarthenshire Fishermen's Federation distributed fact sheets prepared by the Wild Trout Trust which showed the life cycle of sewin and their needs to survive in a river. The need for clean water was highlighted. Creighton pointed out that whilst farmers were experts on what happened on their land they sometimes had limited knowledge of what happened in the streams which passed through their land. He urged farmers to consider the needs of the river when making decisions on the management of their farms.
In closing, Creighton highlighted the need for all farmers on a catchment to manage their businesses in a way that kept the rivers and streams pollution free. This was a 365 day a year commitment. If pollution came from one farm on one afternoon and fish were killed, it would take years for the fish population to recover.
Those in attendance were then able to enjoy locally sourced beef or pork rolls, as well as local ice cream, while listening to Sir Gareth Edwards talk about his love of fishing and sharing anecdotes from his glittering rugby career.
NFU Cymru President John Davies said: "Tonight's event has provided a platform for farmers and local fishermen to come together and discuss something that is important to everyone here - the condition of our watercourses. It has been excellent to visit Glanrwyth to see the synergy and the partnership between productive farming and nature. To be able to walk down to the river and see that clean water sample, and the fish thriving in those conditions, was inspiring and a reminder of why this is so important.
"As farmers we take our environmental responsibilities seriously and recognise the role we have to play to enhance water quality in Wales. I think this event has been a fantastic occasion that has provided a learning opportunity for us all. Everyone in attendance has shown a real willingness to work together on this important issue. NFU Cymru is fully engaged in the challenge that we face and this is just the start of what I am sure will be a long and fruitful partnership."
NFU Cymru Carmarthenshire County Chairman Huw Davies added: "It was a pleasure to welcome Sir Gareth Edwards and fellow members of the Carmarthenshire Fishermen's Federation on farm for this fantastic event. The incredible turnout shows that water quality is an issue of real importance to our industry and that there is a genuine desire among the farming community, and individual businesses, to work with fishermen in the best interests of our rivers."
NFU Cymru and the Carmarthenshire Fishermen's Federation will meet next month to discuss how they can further develop the partnership to provide lasting benefits to water quality in the county.