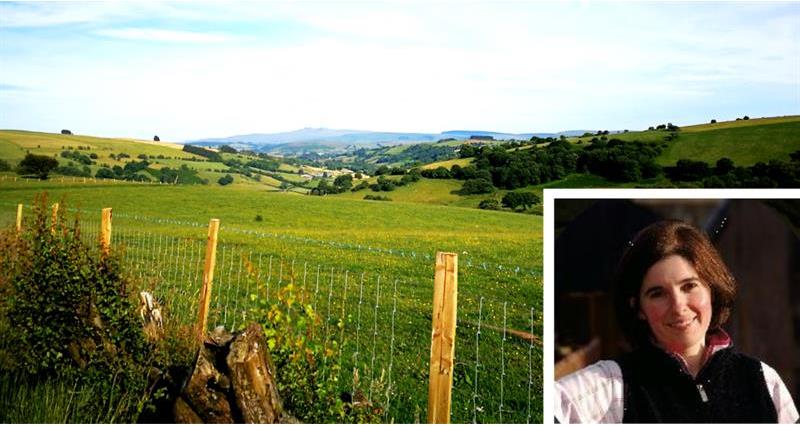 NFU Cymru's Environment and Land Use Adviser, Rachel Lewis-Davies writes about how sustainability has become the new keyword:
In early June, NFU Cymru held its first ever Sustainable Agriculture Conference at the farm of our President, John Davies and his family at Pentre, Merthyr Cynog.
The well attended event saw the launch of the NFU Cymru Report 'Sustainable Agriculture: Food, Farming and the Environment' and promoted the crucial role of farmers in protecting, maintaining and enhancing the farmed environment in Wales alongside producing high quality food to world leading standards.
It appears 'sustainable farming' is becoming the new mantra! Just a month after the NFU Cymru conference, Welsh Government launched the 'Sustainable Farming and our Land' consultation setting out revised proposals for how they intend to support farmers post Brexit. A 'Sustainable Farming Payment', replacing the Basic Payment Scheme and Glastir, is proposed to provide an annual income stream to farmers for undertaking actions that deliver principally environmental outcomes such as soil nutrient management, soil husbandry, and the management and creation of habitats and woodland.
The extent to which payment for environmental outcomes can also deliver wider economic, social and cultural outcomes remains a key unknown. The lack of stability measures to replace the Basic Payment Scheme, within proposals, will also be a concern.
Coming just 12 months after the 'Brexit and Our Land' consultation, many farmers will feel rightly frustrated having to engage so soon in a further consultation of this length and complexity, particularly in the context of Brexit uncertainty and the run-up to EU exit on 31st October 2019. Other non-farming organisations are, however, lining up to have their say on proposals and it is really important that we as farmers respond to Welsh Government's revised proposals for future support.
Fundamentally as farmers, we know, we need farm businesses to be productive and profitable if we are to be able to continue to deliver the environmental benefits we all want to see. Moving forward we need to be absolutely clear, that sustainable agriculture means sustainable - economically, socially, culturally and environmentally. That is why at the Sustainable Agriculture Conference, NFU Cymru launched a Sustainable Agriculture Award to be awarded to the farmer judged to have the most outstanding example of sustainable farming business that, in the round, can demonstrate a commitment to the production of high quality food to world leading standards; demonstrate a positive contribution to protecting, maintain and enhancing the quality of the farmed environment; and, demonstrate involvement and contribution to the rural economy, rural communities and Welsh culture.
Many examples of sustainable farm businesses exist across Wales and we encourage applications and nominations ahead of the 30th September closing date.