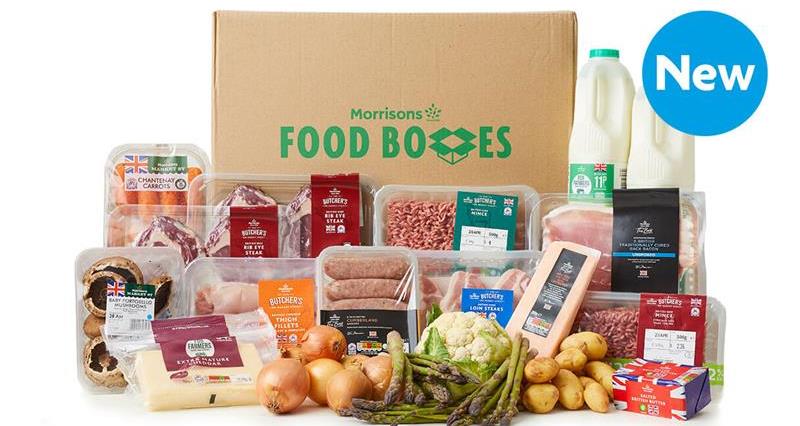 Morrisons customers will be able to order a British Farmers Food Box bursting with UK seasonal produce including meats, vegetables, milk and cheeses.
The British Farmers Food Box contains seven packs of meat - including ribeye steak, two blocks of cheese, four pints of milk, a block of butter, a kilo of potatoes and five packs of vegetables - including asparagus and Jersey Royals. The 10kg box is priced at £45, which includes next day contact-free delivery.
Created to support vulnerable and self-isolating customers - and those limiting trips outside of the home, the British Farmers Food Box will also support UK farmers who have been struggling since the outbreak of Covid-19.
Many farmers have been unable to sell produce that might have been destined for the restaurant trade. So, one pound from every British Farmers Food Box will be donated to The Prince's Countryside Fund which is coordinating donations on behalf of Farming Help charities.
Additionally, the box will contain milk and cheese from the Morrisons For Farmers range which return more money directly into the pockets of farmers.
Welcoming the announcement, John Davies, NFU Cymru President, said " We are pleased to see Morrisons commitment to Welsh and British continuing to grow with the launch of the British Food Farming Box. With the country still in the grips of Covid-19, such initiatives not only help with disease protection through direct no contact doorstep deliveries, but also ensures consumers have ready access to top quality home produced fresh and seasonal ingredients. We very much hope that this Food Box supporting British farmers borne out of the COVID 19 crisis will become a long term feature of Morrisons home delivery offer. We also very much welcome the fact that for every box sold Morrisons have agreed to donate £1 to Farming Charities through the Princes Countryside Fund.
David Potts, Chief Executive of Morrisons, said: "Being the biggest customer of British Farming, we want to help farmers while also playing our full part in feeding the nation. Our farmers produce some of the world's finest meats, vegetables and cheeses which we want to offer to our customers."
Claire Saunders, Director of The Prince's Countryside Fund said: "We are immensely grateful to Morrisons and their customers for backing British farming. This contribution will allow us to support farming groups across the UK - including the five Farming Help charities. It will also ensure that British farmers have the support they need through this difficult time to keep producing healthy, nutritious food for our tables."
The Morrisons British Farmers Food Box will be available to buy on the Morrisons Food Box website https://www.morrisons.com/food-boxes/. Customers who wish to place an order over the phone can also call 0345 611 6111 and select option four.