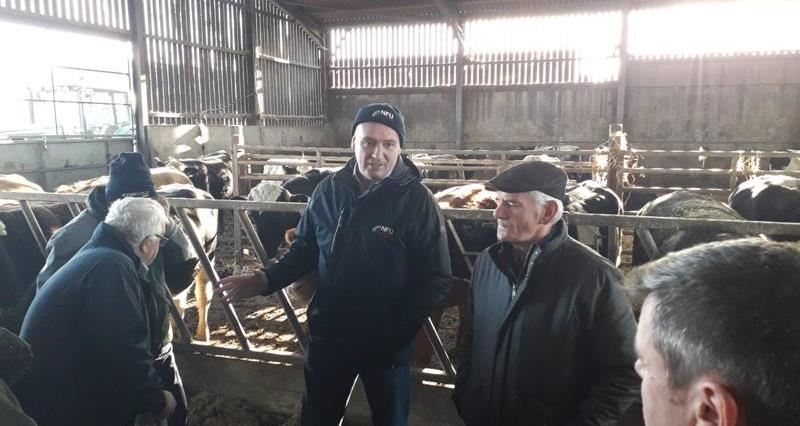 NFU Cymru President, John Davies, spent time with members on Anglesey on a recent visit to the County.
In an afternoon event, kindly hosted by Wyn and Dylan Jones of Castellior, Menai Bridge and their families, members had an opportunity to learn more about their farming enterprise and to discuss the current beef trade with the President.
The Joneses explained how the 800 acre enterprise worked with all the fodder demand being met from their own cropping. Wheat, barley, red clover and grass provide the basis for their beef and sheep enterprise with self-sufficiency being central to the enterprise. They outlined how the management system they ran was comparatively simple with key animal data kept on tags and ear marking, which resulted in the easier day-to-day management of livestock. They took pride in the fact that the unit was a traditional family farm with all family members directly involved in the management of stock and the associated administration.
With 800 cattle being finished off the farm each year, price fluctuations have a great effect on the bottom line and this year has been particularly worrying with the depressed returns from beef since the summer months. Many of those present also reported difficulty in securing slaughter space in abattoirs.
Dylan Jones, NFU Cymru member and host farmer, said: "We take pride in the stock we finish at Castellior and its currently very frustrating that what we aren't getting a fair return on the stock that we turn out for the consumer. The disruption and turbulence that we have felt over the last year does make us nervous of how any EU exit may affect our business. We've tried to invest in the farm infrastructure so we are able to shift the focus of our farming enterprise should we have to."
Thanking Wyn and Dylan for hosting, John Davies, NFU Cymru President, said: 'We at NFU Cymru are acutely aware of how important the beef sector is to farmers in Anglesey. There is a strong tradition of finishing cattle on the island and we understand how difficult trading conditions have been all summer and into the autumn.
"We're calling on the government in Westminster to examine the impact of the €100m Beef Exceptional Aid Measure for Irish Beef Farmers, and to consider emergency support to beef farmers. We also press on government to move rapidly to introduce country of origin labelling for all processed beef products."
John Davies also took in a visit to Morgan Evans and Co.'s Gaerwen Mart in the afternoon and a visit to the Stena Port Authority at Holyhead before addressing a county meeting in the evening.