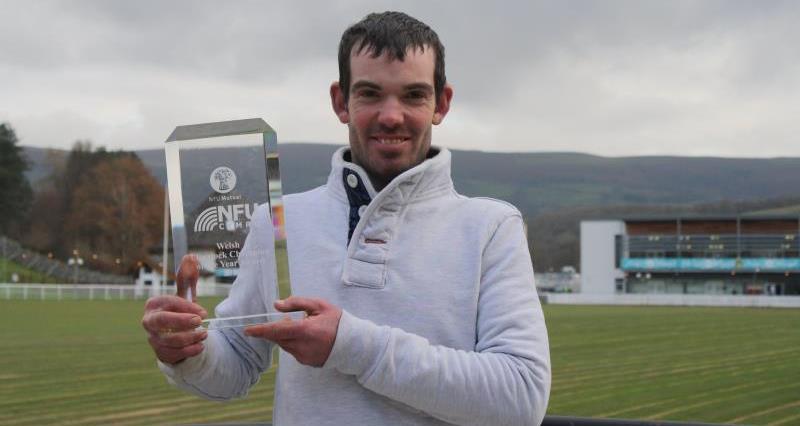 Owen Watkins with his award
Owen Watkins of Caenantmelyn, near Hay-on-Wye has been announced as the winner of the NFU Cyrmu/NFU Mutual Welsh Livestock Champion of the Year Award 2018/19 during today's Royal Welsh Winter Fair in Llanelwedd.
The competition, now in its fifth year, recognises the key role a good livestock manager can make to a livestock farm and to the Welsh livestock industry as a whole.
Owen, who runs the family farm in the foothills of the Black Mountains, has worked on the farm all his life. After leaving high school in 2004, Owen went on to study agriculture at Brecon College, which coincided with working on the farm as well as working part-time as a builder, which he still does now.
At the age of 20, Owen became a partner in the farm business and also took over the paperwork and farm administration. Over the years he has grown the business with the purchase and renting of additional ground together with the development of the livestock accommodation.
Owen has expanded the stock numbers, upping the cows from 40 to 50 suckler cows, together with followers, and more recently has expanded further to bucket calves, currently rearing 18. Together with the cattle, Owen also keeps both pedigree and commercial sheep flocks. He has expanded the flock and now has 650 commercial ewes and a flock of 70 pedigree Texel ewes.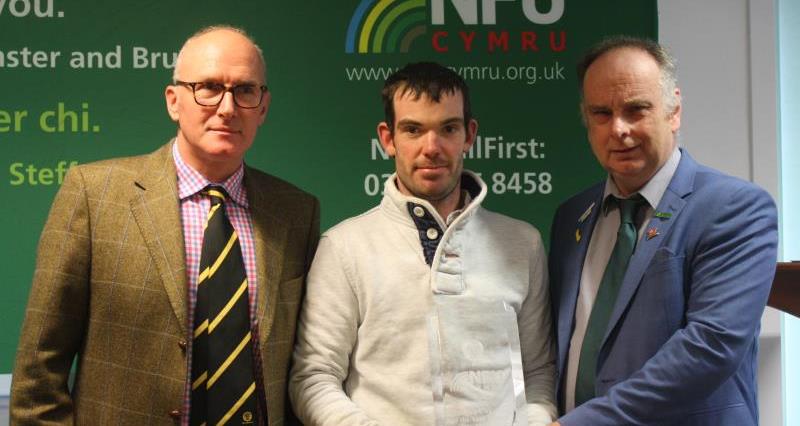 Pictured is Owen being presented with his award by NFU Cymru Livestock Board Chairman, Wyn Evans and Hugh Davies, NFU Mutual Senior Agent and NFU Cymru Group Secretary
Owen also shows both cattle and sheep, which started during his time as a member of the YFC. He has won many accolades over the last few years including Reserve Champion in the Baby Beef category at the Winter Fair and Overall Champion Texel at the NSA in 2016.
An active member of the YFC, Owen was Brecknock County Chairman and now retains an interest in the movement as a club leader at his local club, Llanigon.
Owen focuses a lot of his time on animal health history, maintaining a high quality of breeding stock. He puts a lot of emphasis on target weights and looks at costs of production, together with animal diet and feed rations. He has undertaken an AI course to try and improve the cattle operation, looking into the genetics, and being able to oversee this work means he can now mate specific sires to individual cows on a cost effective basis. Owen also ensures the facilities and equipment are kept up to date to ensure better animal welfare standards, as well as health and safety.
Owen plans to develop the business to make it sustainable to support himself and his family and to create a viable enterprise for the next generation. He is working towards becoming more self-sufficient, and although he already grows corn and green crops, he understands he needs to cut costs and be less reliant on bought-in feed and litter. He maintains grass management with regular re-seeding and quality grass lays.
Presenting Owen with the prize of £500, sponsored by NFU Mutual, and a Royal Welsh Engraved Crystal Trophy, Wyn Evans, Chairman of NFU Cymru's Livestock Board said: "One of the key factors we were looking for in determining the winner of this award was the quality of the stockmanship, as this is a major factor in determining the success of any livestock business. Owen showed a real enthusiasm for the industry as well as his animals, and he demonstrated outstanding knowledge of the livestock he was managing, focusing on the animal health history to cost of production. He is extremely passionate about his business and showed a great interest in the wider livestock industry, and not just the practices he uses on his farm.
"Our award criteria had particular emphasis on how the farm incorporates health and safety. Owen showed he applies vigilance and common sense in his general day-to-day approach and work routines, where visual risk assessments are carries out on every job. He has improved the cattle and sheep handling facilities and is always on the lookout for ways to make processes safer for himself and the vet."
Hugh Davies, NFU Mutual Senior Agent and NFU Cymru Group Secretary, who was part of the judging panel said: "I would like to congratulate Owen whose dedication and expertise as a good stock person, teamed with his commitment to safety, made him a very worthy winner of this award. NFU Mutual is pleased to recognise and champion good stock people who incorporate the best livestock practices with high standards of on-farm safety."