NFU Cymru has today urged Welsh Government to urgently reconsider its current bovine TB eradication programme in light of new peer-reviewed evidence.
The evidence within the Downs Report, published today, clearly shows that badger culling can result in significant reductions in the number of TB outbreaks in cattle.
Research into the effectiveness of the English badger cull in the original cull zones in Gloucestershire and Somerset showed, after four years, a 66% reduction in new bovine TB breakdowns in cattle in Gloucestershire and a 37% reduction in Somerset.
NFU Cymru President John Davies said: "I am delighted that the NFU's policy has been vindicated and farmers within England can take comfort from the fact that genuine progress is finally being made on tackling this terrible disease, with positive steps being made towards the country becoming TB free. This research is clear evidence of the success of the Westminster Government's bovine TB eradication strategy.
"Of course this new evidence will only add to the extreme frustration and anger that Welsh farmers are feeling about the inadequacies of the current Welsh Government bovine TB eradication programme. Bovine TB continues to severely impact Welsh farming families emotionally and financially. Latest statistics show that 12,360 cattle were slaughtered in Wales in the year to June 2019, a figure that is totally unsustainable for the Welsh cattle industry.
"It is essential that lessons are learned from the way the Westminster Government has implemented its bovine TB eradication plan in England. This new evidence emphatically shows that the only way forward in eradicating this horrific disease here in Wales, is for Welsh Government to recognise that robust controls to tackle the reservoir of disease in the wildlife population need to be employed. This should be alongside the range of other measures already in operation, such as enhanced biosecurity and cattle control measures.
"The peer-reviewed, scientific evidence released today cannot be ignored. Welsh Government must now urgently review its current ineffective bovine TB policy. We need a fit for purpose, science-based programme that tackles this terrible disease across all its vectors.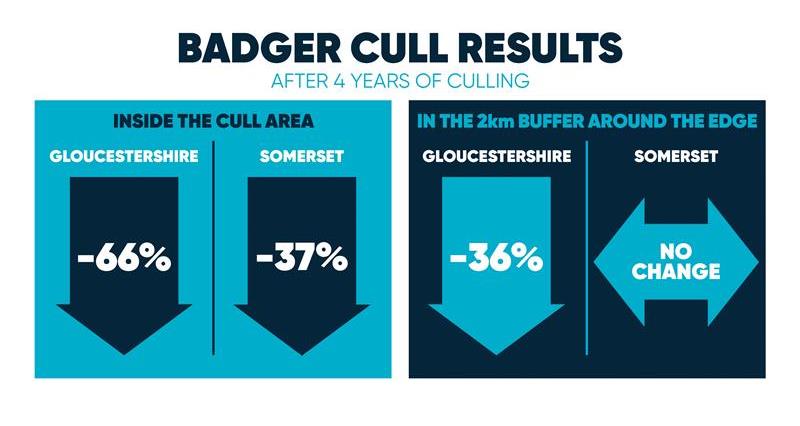 "The Minister has repeatedly ruled out an English style approach in Wales. On the basis of the evidence published today, we ask that she now urgently reconsiders this decision. In a letter to the Minister in February, we set out our willingness to work in partnership with Welsh Government to take forward a farmer-led badger control strategy, taking on board the protocols established between the NFU and the Westminster Government. The offer remains, but in order to deliver, farmers need to know that Welsh Government will provide the support that successive farming Ministers in England have given to the bovine TB eradication programme.
"As we head into a post-Brexit world it is essential that farmers in Wales are allowed to compete on a level playing field and are not hamstrung by an ineffective policy. At NFU Cymru we are ambitious for the future of our farming sector, but if we are to realise our ambitions then we must be allowed to rid ourselves of this disease once and for all and move forward with a thriving cattle industry sitting alongside a healthy wildlife population."