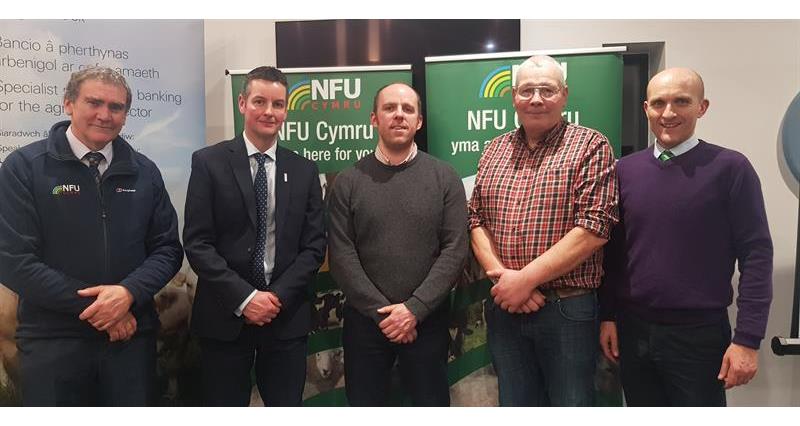 'Efficiency is key, no matter what happens with Brexit', was the message from Dr Prysor Williams, Senior Lecturer in Environmental Management at Bangor University, who was guest speaker at the annual Mid Gwynedd NFU Cymru County Conference.
Dr Prysor Williams' presentation, entitled 'Opportunities for agriculture: The next decade' focussed on the key factors currently affecting agriculture; the first being Brexit, the second was consumer demand and the third, environmental challenges. Dr Williams also discussed solutions that could lead to a more productive, profitable and progressive future for Welsh agriculture.
Dr Williams said: "There are many factors that are currently and will continue to impact Welsh agriculture. Brexit, for example, is one key factor that is creating a huge amount of uncertainty for the industry. With our departure from the CAP, farmers must be ready to adapt and strive to create further efficiencies in their businesses.
"Farmers are good at adapting, we've done this for centuries, but what we must continue to invest in, in order to create efficiencies, is research and development. All progressive industries invest in research and agriculture is no different. Research allows us to produce more using less resources and this will be crucial going forward."
Henfaes, Bangor University's farm, has been taking part in an abundance of research projects looking into grassland productivity through optimised soil, nutrient and grazing management – the base of lamb production systems. The aim is to find solutions to producing meat more efficiently. One of the findings was that clover leys help reduce nitrous oxide without reducing yield. Furthermore, using nitrogen probing meters to help target fertiliser application could also lead to efficiency savings. There is huge potential for Welsh farming if we can improve the utilisation of grass to reduce environmental cost and economic cost of livestock production."
NFU Cymru Deputy President, Aled Jones, also addressed the meeting and discussed the work of the Union on agricultural issues including NFU Cymru's conversations with MPs regarding the need to avoid a 'No deal' Brexit at all costs.
NFU Cymru would like to thank HSBC Bank for sponsoring this year's 11 county conferences across Wales.