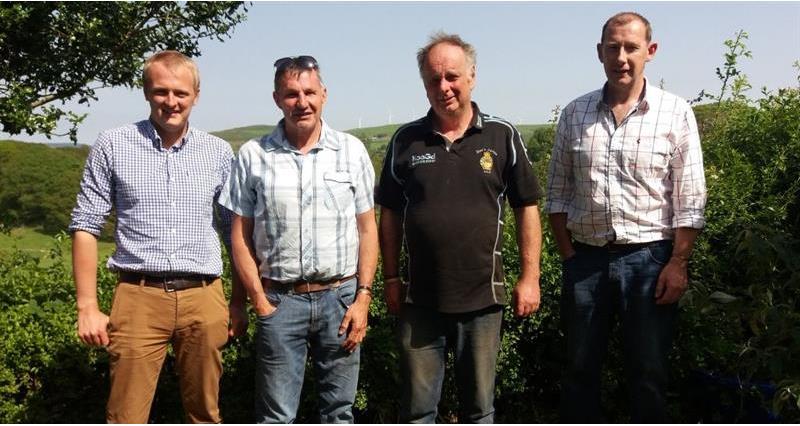 Upland farmers in Ceredigion recently met with their Member of Parliament, Ben Lake, at an on-farm meeting near Talybont in the north of the county, and took the opportunity to raise a number of issues of concern with him.
The meeting was kindly hosted by Dylan Morgan and family at Alltgoch, a hill and upland farming enterprise. The farm is home to a suckler herd of Welsh black cattle as well as Welsh, Lleyn and Texel sheep, and is enrolled in the Glastir Advance scheme.
Richard Tudor, Chair of NFU Cymru's LFA board, who was present at the meeting said: "It was really useful to be able to meet with Ben, particularly as he has recently taken on the role of Vice-Chair of Westminster's All Party Parliamentary Group on Hill Farming. As we know, around 80% of Wales is less favoured area, and so it is very fitting that Ben has taken on this role. Much of what the future holds for our sector will now depend on what sort of Brexit we have. A bad Brexit, in which the UK leaves the EU without a trade agreement and our exports to the EU are subject to tariffs, could see swathes of rural Wales devastated as hill and upland beef and sheep enterprises cease to be viable. This would in turn have a significant knock-on-effect on wider rural communities and the Welsh language."
Mr Tudor continued: "We very much need stability at this very uncertain time, and we need to ensure that certain politicians, who made promises before the referendum that Wales would not lose out on a penny of funding as a result of Brexit, are held to those promises. When it comes to agriculture, this means that the UK Government must deliver the same level of funding for Welsh Agriculture, as we currently receive from the EU."
NFU Cymru's Livestock Board Chairman, Wyn Evans, was also present at the meeting and impressed upon Ben the need for common frameworks to be established across the UK home nations, to minimise competitive distortions within the UK's single market after Brexit, and to uphold standards. Mr Evans said: "Whilst agriculture is of course a devolved matter, it is nevertheless important that the governments in Wales, England, Scotland and Northern Ireland agree by mutual consent, certain parameters on matters such as animal welfare standards or the level of support which can be directed into a particular sector."
Mr Evans also took the opportunity to comment on the recent fall in the beef price. He said: "Beef prices have come under pressure recently. The uncertainty over Brexit, the prospect of imported goods produced to lower standards entering the UK market, and the difficult trading conditions in the UK, have all played a part and have dented confidence in the Welsh beef sector.
"Across the Irish sea, farmers in the Republic of Ireland are being supported to the tune of €100million by the European Commission and Irish Government, giving Irish beef farmers a significant advantage over their Welsh counterparts. Governments in Wales and Westminster need to assess the impact of this support on the UK market, and be prepared to step in if necessary to protect domestic beef production."
Mr Tudor concluded: "I'm most grateful to Dylan and his family for hosting us at Alltgoch and to Ben for coming out to meet with us. At this uncertain time we value the opportunity to be able to speak with our politicians, and I hope Ben can take some of the messages that have emerged from today's meeting back to Westminster with him."