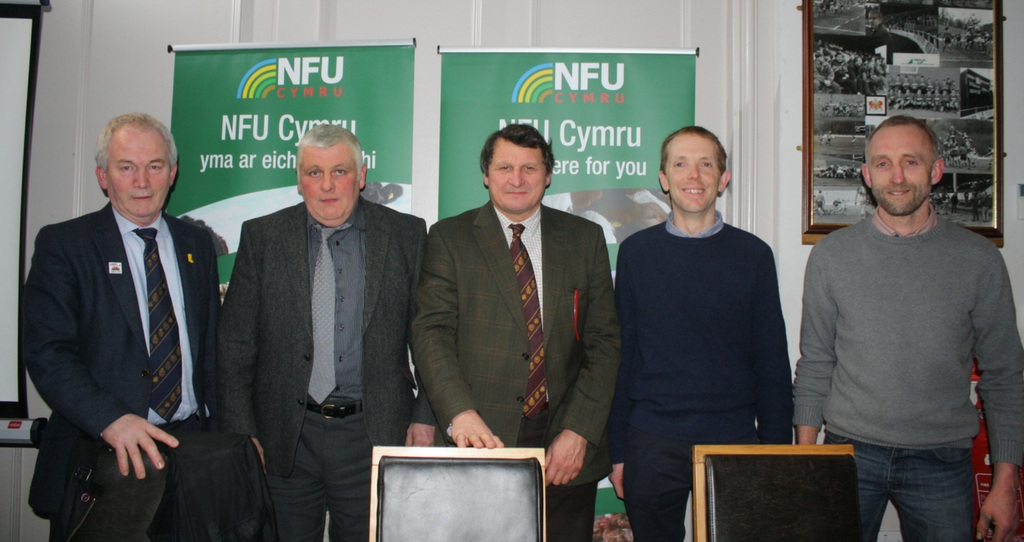 Pictured is NFU Cymru Outgoing President Stephen James, Lewis Williams County President, Robin Milton NFU Upland Forum Chairman, outgoing Meirionnydd Chairman Geraint Rowlands and new County Chairman Emlyn Roberts
Robin Milton, NFU Uplands Forum Chairman, was the guest speaker at a recent NFU Cymru Meirionnydd County Conference.
During the conference, held at Dolgellau Rugby Club, Mr Milton told members about the important role farmers play in securing the environment. He also discussed how farmers have saved the landscape that we currently have in upland areas.
Mr Milton, who is also Chairman of Exmoor National Park, discussed at length how UK farmers farm in an environmentally friendly way already. He said: "I want to secure the farms future for the next generation, which is my son who will be the ninth generation of the family to farm the land. There is no point leaving it in a worse state than we started with as there will be nothing left to work with.
"Without farmers there wouldn't be a landscape to market and here in Wales, as well as all over the UK, our landscape is one of our main attractions for tourists."
Mr Milton was also keen to reiterate how important it is that people are aware that food production is in fact a public good and without farmers, producing the food products eaten on a daily basis, there would be empty shelves in supermarkets.
Stephen James, in one of his last engagements as NFU Cymru President, also addressed Meirionnydd members on a number of issues concerning the Union's work and priorities, including Brexit, bovine TB and NVZs.
Emlyn Roberts, Meirionnydd County Chairman said: "I'd like to thank Robin Milton for making the journey up to Dolgellau to talk to us. He spoke in great detail about his life as an upland farmer and gave us a real insight in to what life is like living in Exmoor. I'd also like to thank Stephen James for speaking at the conference and wish him well for the future as he steps down."
NFU Cymru would like to thank HSBC Bank for sponsoring this year's 11 county conferences across Wales.