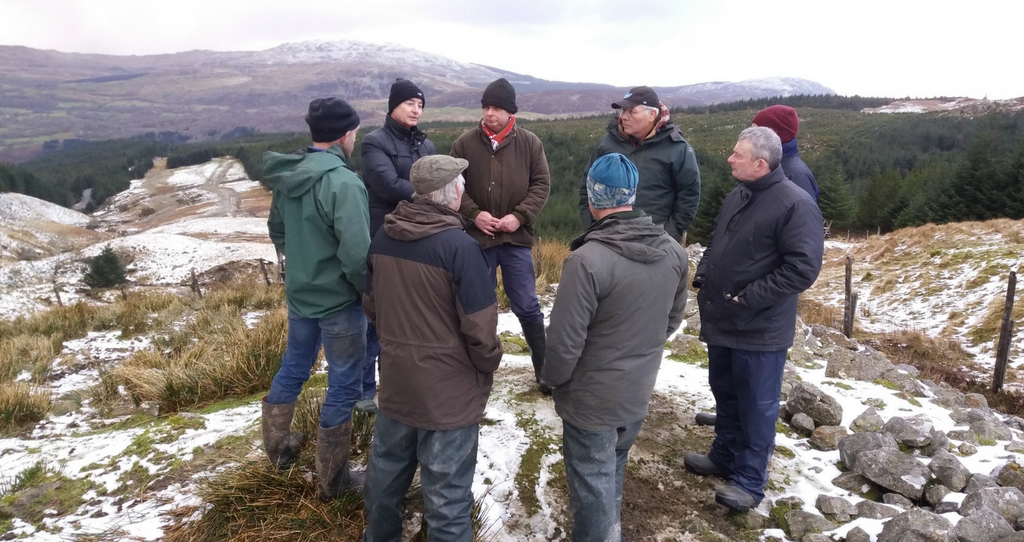 Pictured are NFU Cymru officeholders wnad Kevin Roberts, HCC Chairman during the visit
NFU Cymru Meirionnydd County Chairman, Emlyn Roberts recently welcomed HCC to his hill farm near Dolgellau where they discussed the nature of hill farming and the limitations of production on land that topped almost 3,000ft.
Kindly hosted by Emlyn and Catrin Roberts, HCC Chairman Kevin Roberts visited the Rhydymain farm where they were joined by Wyn Evans, NFU Cymru Livestock Chair, Hedd Pugh Rural Affairs Chair and local NFU Cymru officeholders.
As part of the visit, the group also visited the mountain at Aran and saw the farm, which rises from 600ft up to almost 3,000ft, and saw how the smaller sized ewe is the only type of ewe that can survive and thrive there. The group discussed how the hill land needs to be supported by some lower land and how sheep grazing is essential to the hill and its good environmental management.
The members emphasised how important having access to existing export markets for light lambs was vital to the viability of their farming enterprises.
Following the farm visit, Kevin Roberts addressed a well-attended NFU Cymru Meirionnydd County meeting in Bala.
At the meeting, constructive discussions took place between HCC and NFU Cymru members around the threat of Brexit to the export market as well as the potential impact on the viability of Welsh sheep production from changes to current agricultural support policies.
Also discussed was the work being carried out by HCC to secure and retain UK and export markets and the need for continual work on new product development. There was much debate about the challenges and opportunities that Brexit may provide with the need to maintain and continue to grow existing export markets and to expand export opportunities to other countries. The Far East, USA and China were noted as key markets that could provide opportunities for our premium product, if market access can be agreed between those countries and the UK Government."
Finally, discussions centred around the current grading system and a desire to move to a system that would reward eating quality and taste, in addition to the carcass classification.
Emlyn Roberts, NFU Cymru Meirionnydd County Chairman said: "I'd like to thank Kevin Roberts for taking the time to come up to Meirionnydd and not only visit the farm, but also to speak with us at our county meeting. It was very insightful to hear HCC's views for how things will progress over the next few years and their plans going forward to market and promote our great tasting Welsh lamb. The export market is crucial to the future viability of the Welsh sheep industry, it is absolutely crucial is that we continue to have full and unrestricted access to all our export markets following our departure from the EU in March 2019.