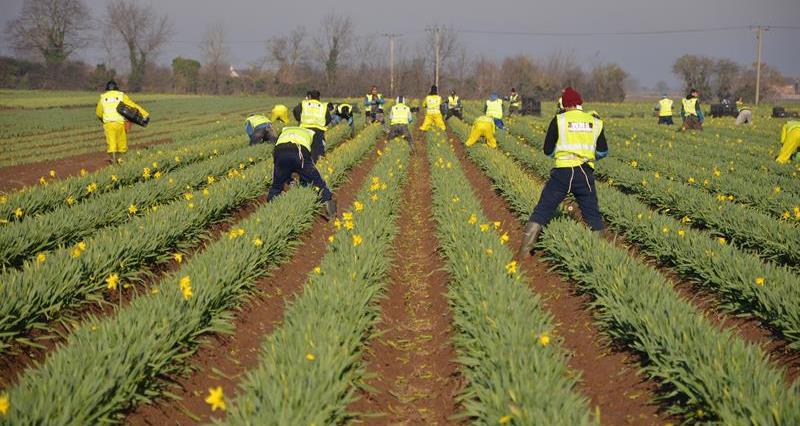 The UK and Welsh governments have announced that Seasonal Agricultural Workers will be exempt from the 14-day quarantine requirement for people entering the UK.
The announcement comes as part of new measures to prevent a second wave of coronavirus infections as more people start travelling to the UK.
Wales
The position in Wales regarding quarantine mirrors that which has been announced in England. Please see the Welsh Government's general guidance and guidance on exemptions
You must make sure that workers have documentary evidence to confirm that they are travelling to your farm to carry out seasonal agricultural work. Workers must have these documents before they travel. See above for a template letter you can use.
Within two hours of workers arriving at the farm, you should give them:
Clear instructions about their working and living arrangements
Ask workers to give written confirmation that they have received and understood this information.
For the first 14 days, you should put workers into groups and strictly limit contact with others outside of those groups. The group should be made up of workers arriving on the farm within 24 hours of each other.
When working, ensure that your operations follow:
If anyone in the group develops coronavirus symptoms, follow guidance on what to do if an individual gets coronavirus symptoms.
Government advice for seasonal agricultural workers coming to England to work on farms, and their employers
Gov.uk has published guidance on coming to the UK for seasonal agricultural work on English farms. From 8th June 2020 there will be new arrangements in place at UK borders under which incoming travellers will be expected to self-isolate for 14 days on entry to the country.
The importance of food production has however been recognised in the form of alternative arrangements that have been put in place for seasonal agricultural workers in edible horticulture. Click here for detailed government guidance on these alternative arrangements. In addition to this, more general guidance has also been published by the Home Office on what is required at the border, and by DHSC on self-isolation.
Click here for a full list of all exemptions and the details of these exemptions.
The NFU is of course aware and has raised with Defra that there are seasonal needs outside of edible horticulture and that not all edible horticultural seasonal workers are accommodated on site. Nonetheless, the alternative arrangements for at least some of the required seasonal workforce is welcome. Going forward, the regulations and exemptions will be reviewed every 21 days to ensure that they remain proportionate and are still justified by the best scientific evidence.