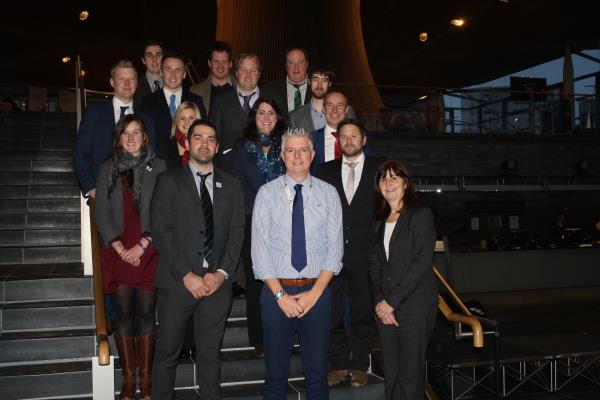 Aled Davies:
Aled is currently a student at Gelli Aur College who lives on the family farm in Llangadog, Carmarthenshire. The farm comprises of beef, sheep and a dairy herd, he is also looking into setting up a poultry unit. Aled's main interest is grassland management and how to make the most of our pastures.

Angharad Williams:
Angharad is the fourth generation at Dolau Ifan Ddu farm, a hill farm in Bridgend. She breeds and shows quality Pedigree Livestock and has a keen interest in countryside development and renewable energy. As part of the group, Angharad would like to discuss employment opportunities in the industry and how the pillar two funding of the RDP can be best utilised.

Annie James:
Annie owns and runs a dairy farm in Llandysul, Carmarthenshire, in partnership with her father and husband. As part of the group she would like to discuss current and future European and domestic policy with particular emphasis on how this will affect day to day running of farms in Wales.

Carwyn Rees:
Coming from a dairy farm in Carmarthenshire, Carwyn is currently a Rural Chartered Surveyor in Pembrokeshire. He plays an active role in the day to day management of his family farm, caravan park and property development. He is currently the vice-Chairman for the Future Farmers of Wales and believes this experience will be a benefit to this new policy group.

Guto Davies:
Guto is the sole trader of a tenant farm owned by the National Trust. It is a beef and sheep farm situated in Betws y Coed, Conwy. One of Guto's main goals is to improve his flock performance through the use of EID equipment and is already part of a discussion group of ten farmers in his local area.

Gwynfor Evans:
Gwynfor is heavily involved in his family beef and sheep farm in Ystrad Meurig, Ceredigion. His main interests are with the politics of agriculture in Wales and further afield and the issue of food production with an ever growing world population.

Hefin Jones:
A beef and sheep farmer from Betws y Coed, Conwy, Hefin, does a lot of work on raising the standards of his farm's soil and grass and has a keen interest in all areas of the industry. He has had countless experiences of public speaking and was the initiator of an Uplands group that scrutinised Welsh Government's 400m moorland line.

Jack Thomas:
Jack is currently studying FDSc Agri-business at Harper Adams University and takes an active role in his family's beef and sheep farm. He has gained a lot of experience in the dairy and arable sectors during his year in industry at a farm in Oxford.

Jacob Anthony:
Jacob helps to run his family's beef and sheep farm in Tondu, Bridgend and has a keen interest in promoting Welsh agriculture to a wider audience. Over the next five years Jacob hopes to run as a candidate to be a local councillor.

James Powell:
James is a partner of an upland sheep and beef farm in Llanbadarn Fynydd, Powys. He has a keen interest in innovation and knowledge transfer and has played a heavy role in his local Young Farmers Club. He has set up agricultural projects in schools and hopes to implement new and developing practises into the local agricultural industry.

Joy Cornock:
Joy is an active farmer's daughter from Fishguard, Pembrokeshire. The family farm comprises of dairy, sheep, beef and arable land. Joy works in television production as a freelance researcher and producer, mainly on agricultural and YFC programmes and hopes that she can help publicise opinions and facts to help promote the industry.

Kaye Davies:
Kaye farms a mixed farming unit comprising of cattle, pigs, sheep, potatoes and arable, she also has a keen interest in the marketing of these products. Kaye would like to see more support and mentoring for young farmers entering the industry and hopes to discuss this as a member of the policy group.

Kay Lewis-Thomas:
Kay is heavily involved in her family farm at Bryncoch, Neath. It is a beef and sheep farm and she has a keen interest in both livestock handling and management. Kay has previously held the post of National YFC Senior Member of the Year and hopes that the group can help to secure a better future for young people entering into the industry.

Llion Pugh:
Llion is an agricultural lecturer at Glynllifon College but also plays an active role in the decision making on his family's beef, sheep and poultry farm in Tywyn, Gwynedd. One of his main aims for the group will be how best to help young farmers join the industry and become profitable.

Nicholas Rogers:
Nicholas, who farms in Presteigne, Powys, has a keen interest in farm diversification and renewable energy. He is involved with all aspects of the family farm, including beef, sheep, cereals and agricultural contracting and believes his position as chairman of the Wales Blonde Cattle Society group will allow him to represent the views of young people in the livestock industry.

Owen Jewell:
Owen, who farms in Llangwyryfon, Ceredigion, has a keen interest in grassland farming, Agri policy and classic and vintage agricultural machinery. He hopes that by working together the Next Generation Policy Group can push Welsh farming forward and create more strength for the future.

Rhodri Jones:
Rhodri, who was part of the winning team on Fferm Ffactor 2015, is a partner on his family's beef and Sheep farm in Llanuwchllyn, Gwynedd. He has played an active role in his local NFU Cymru branch and has attended Welsh Council. Rhodri hopes to use this experience to negotiate the best package for the future of the industry.

Shaun Hall Jones:
Shaun is a beef and sheep farmer from Llanybydder, Carmarthenshire. He has a keen interest in low cost sheep production and breeding strategies that aid efficient lamb production. As part of the group, Shaun hopes to discuss topics that ensure a prosperous and gratifying future for his generation.

Thomas Rees:
Thomas, who farms with his family in Cowbridge, Glamorgan, takes a key role in the day to day running of the beef, sheep and arable holding. As part of the group Thomas wants to encourage more young farmers to attend and take active roles in NFU Cymru meetings.

Tom Jones:
Tom is an upland beef and sheep farmer from Dolanog, Welshpool. His main interest lies in sheep farming, however he has spent time working on dairy, poultry and arable farms. Tom believes that we should be constantly looking at how we can make our industry an attractive option for future generations.

Tom Rees:
Tom has taken over the day to day running of his family's arable, beef and sheep farm in Haverfordwest, Pembrokeshire. He is currently a community councillor and always tries to push an agricultural message through at these meetings.