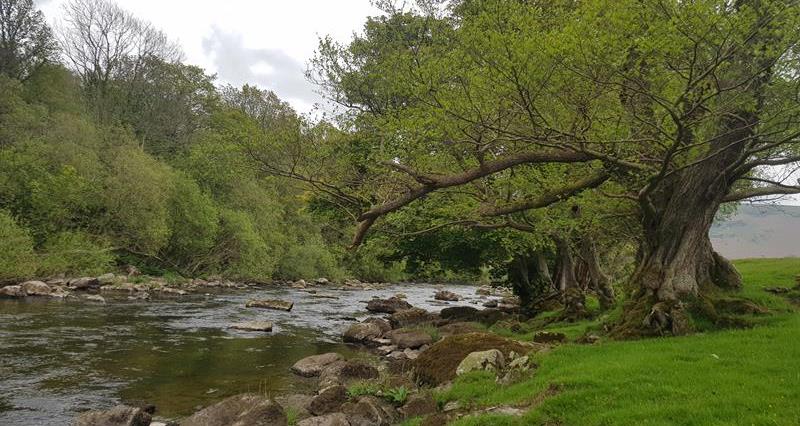 NFU Cymru continues to stress that any decision by Welsh Government on future water quality regulations must be made based on the available evidence, science and a robust impact assessment.
The proposed new regulations, expected to be announced imminently, could see the whole of Wales designated as a Nitrate Vulnerable Zone as laid out in the EU Nitrates Directive, with all farmers required to follow the NVZ Action Programme. The regulations if implemented will impact every farm, every sector and every area of Wales and are contributing considerably to high levels of stress and anxiety within the farming community at, what is already, an exceedingly difficult time.
NFU Cymru has continually lobbied against the introduction of an all Wales NVZ approach. The union is increasingly concerned that perception of the scale of agricultural pollution in Wales does not appear to be based on water quality and agricultural pollution data. In fact, data gathered between 2001 and 2018 shows there was no discernible trend upwards or downward in the number of agricultural pollution incidents in Wales.
(Click on the briefing to view it in a higher resolution)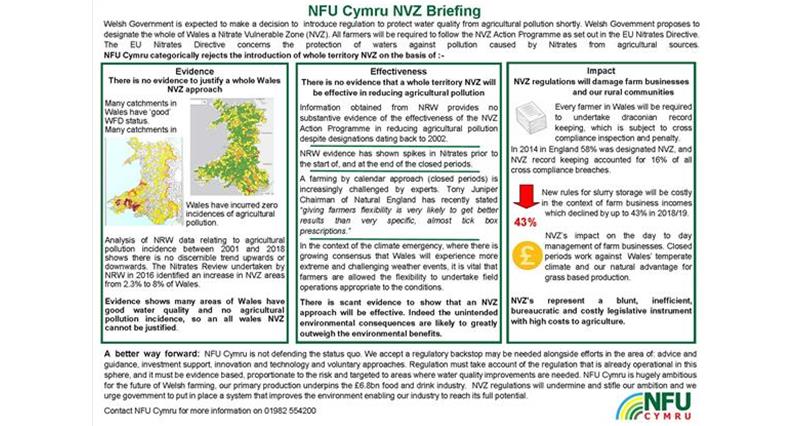 However, the misnomer that agricultural pollution incidents are on the rise persists. Just last week, in a Welsh Assembly Plenary session The First Minister of Wales, The Right Honourable Mark Drakeford AM, in response to a question from the Leader of the Conservatives, Paul Davies AM, stated that pollution incidents are 'growing'.
NFU Cymru members have raised their concerns on the impact of an all Wales NVZ with the First Minister during a meeting of NFU Cymru's ruling body, Welsh Council, on Monday 20th January. NFU Cymru has also written to the First Minister of Wales to further underline the evidence and has requested an urgent meeting to discuss the union's concerns over the proposed regulations in greater detail.
NFU Cymru President John Davies said: "We are deeply concerned that decisions, which will have far reaching implications for every farm business in Wales, are being influenced by misconceptions around the scale and extent of the issue. We cannot emphasise enough how important it is that the true picture of agricultural pollution is understood and effectively communicated by government.

"It has not escaped our notice that precisely the same time that the UK will be leaving the EU, Welsh Government remains on course to lay regulation to transcribe to the letter one of the worst and most damaging requirements of European Union law.

"NFU Cymru is clear, based on water quality and agricultural pollution data, a whole Wales NVZ approach cannot be justified. There is also scant evidence to show that NVZs are effective. Indeed, the unintended environmental consequences are likely to greatly outweigh the environmental benefits whilst also exposing farm businesses to unnecessary additional costs. The impact on Welsh farm businesses and our rural communities will be significant at a time when we should be looking for an ambitious approach from government for our Welsh food and drink industry. NFU Cymru categorically rejects the all Wales NVZ approach as a result.

"NFU Cymru is not defending the status quo. As farmers we take our environmental responsibilities very seriously. Over a number of years we have worked to put in place the framework that allows farmers to take action to improve water quality where this is needed. We accept that a regulatory backstop may be needed but this must recognise and take account of the regulation that is already operational in this sphere and it must be evidence-based, proportionate to the risk and targeted to areas where water quality improvements are required.

"We hope government will be prepared to listen to our concerns and work with us to secure a better outcome than the NVZ approach before it is too late. I would urge government to take some further time to ensure that the correct decision is made given the serious ramifications of this regulation."
See also...