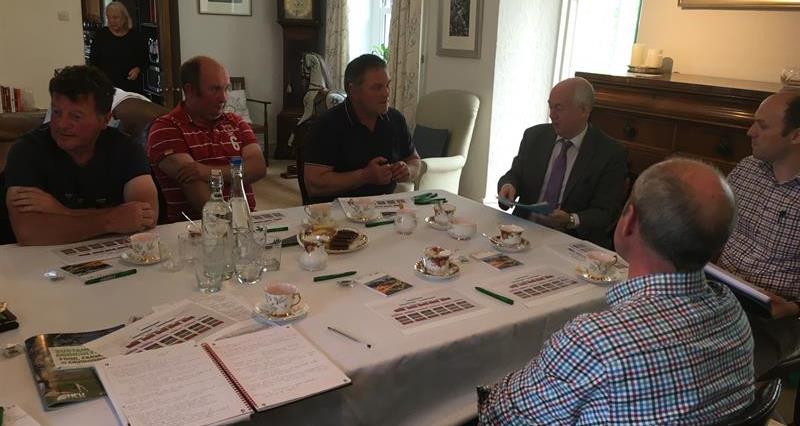 'We make a living by what we get, but we make a life by what we give'
A group of farmers have met Wayne David MP for Caerphilly to discuss their concerns of poor commodity prices and escalating costs of production.
Kindly hosted by Owen Tamplin at Cwmnofydd Farm, a fifth generation farmer, he said: "The industry is facing spiralling costs and yet commodity prices haven't increased and in real terms have gone down. This cannot carry on – cheap food policy is not an option. When the farming sector suffers, local businesses and Wales as a whole will suffer environmentally, socially and economically. My business alone supports many other businesses – to the tune of £250,000 annually. We are all linked, and my staff and ancillary businesses rely on me being profitable in order for them to survive. Profitability exudes confidence and that brings investment on farm and wider."
Owen explained that currently it is very difficult to recover costs that seem to be passed down to the primary producer. Owen said: "We have constantly absorbed costs and this cannot continue when commodity prices have not increased since devolution. Input costs have spiralled and we are immersed in costly regulations – which in my view should give our product a 'premium value'- but this isn't happening. Investment in a workforce, who adheres to rules to ensure high animal welfare standards and traceability to ensure the delivery of safe food, should be rewarded."
Farmers present used the example that the situation of bottled water being more expensive than milk was simply unsustainable. It was also reiterated that every £1 that is invested on farm, generates £7.40 as a multiplier effect in the local economy.
Mr Tamplin continued: "I am very concerned that businesses will become unviable due to lack of profitability. Farmers exiting from industry will have a knock on effect for our suppliers. I did feel that the 'Brexit and Our Land' consultation was too heavily weighted towards the environment. There must be balance in any future support scheme where economic, environment and social aspects all complement each other – these aspects are not at conflict.
"We will look at the recently published consultation 'Sustainable Farming and Our Land' in close detail but my message is clear - low commodity prices, without support, would mean that farming would be non-viable. It is long overdue that the amount of labour units involved in producing safe, high quality food should be fully recognised. My hourly rate would be £3.88. Put simply, this cannot continue and I am not in isolation. Farmers throughout Wales support a significant number of businesses, in tandem with delivering environmental and social benefits but at the end of the day, we make a living by what we get, but we make a life by what we give."