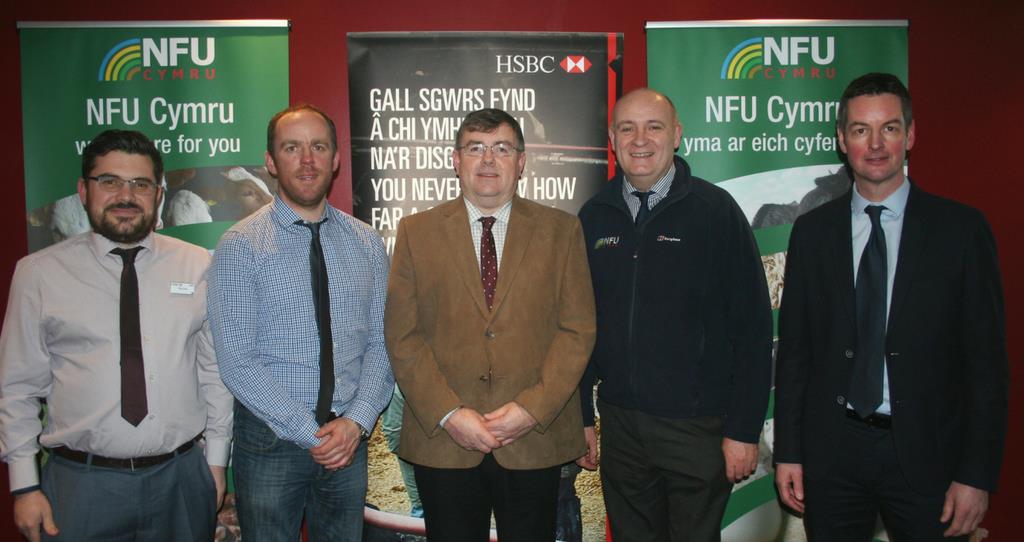 'Welsh farmers should embrace research to drive efficiency on farm'. That was the message from Dr Prysor Williams, Senior Lecturer in Environmental Management at Bangor University, who was guest speaker at the annual NFU Cymru Anglesey County Meeting.
Dr Williams provided NFU Cymru members in attendance at Cartio Mon on Tuesday 9th January with an interesting presentation titled 'Opportunities for agriculture: the next decade'. As part of his presentation, Dr Williams examined key issues affecting the industry at the moment, as well as discussing solutions that could lead to a more productive, profitable and progressive future for Welsh agriculture. His presentation was supported by environmental research that had recently been carried out on Bangor University's Henfaes farm.
Speaking at the meeting, Dr Williams said: "Whatever happens with Brexit, I think efficiency is key. I think the industry needs to be ready to change. We need to be flexible and ready to adapt our production methods, but we also need to be doing the basics right as well. Research has to be part of the answer for us in the future."
Dr Williams also discussed recent comments made by Michael Gove MP at the Oxford Farming Conference about farmers receiving public money for public goods.
Dr Williams added: "We have a lot of farmers who are very efficient and we have lamb with amongst the lowest carbon footprint of any country in the world. But what we need to do is get everyone moving in that direction because of the need to reduce our environmental impact. It is something that consumers and policy makers are keen for the industry to do. There is huge potential if we improve the utilisation of grass to reduce environmental cost and economic cost of livestock production.
"The Welsh livestock sector has a lot to offer, we do a lot for the environment, but we're often not very good at promoting that message in the same way that others do."
NFU Cymru Deputy President John Davies also addressed Anglesey members on a number of issues concerning the Union's work and priorities, including Brexit, bovine TB and NVZs.
Dylan Owen, HSBC Agricultural Manager, provided members with a detailed financial outlook examining the challenges and the opportunities for the industry in the years ahead.
Elwyn Evans, NFU Cymru Anglesey County Chairman, said: "We are grateful to Dr Prysor Williams for agreeing to speak with us at tonight's meeting. As someone who is a farmer and a scientist he is someone who has a foot on either side of the fence and I'm really pleased that we had so many members in attendance to hear his thoughts on the industry."
NFU Cymru would like to thank HSBC Bank for sponsoring this year's 11 county conferences across Wales.