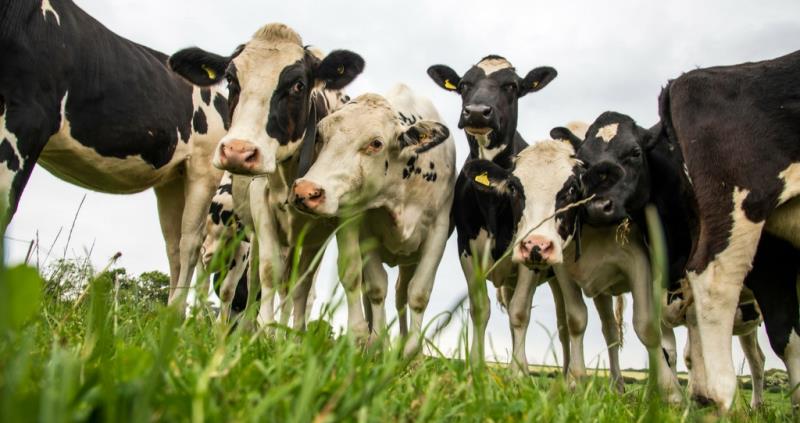 Dairy farmers in Pembrokeshire discussed building fairer supply chain relationships and improving water quality at a recent Pembrokeshire NFU Cymru on-farm county meeting.
At the meeting, held at Keeston Hill Farm, near Haverfordwest, by kind permission of Jamie and Louise Adams and family, local NFU Cymru members received an update from Gareth Richards, NFU Cymru Milk Board Chairman, on NFU lobbying in the dairy sector including efforts to improve dairy contracts.
Commenting after the meeting, NFU Cymru Pembrokeshire County Milk Chairman, Matthew Evans, who chaired the meeting, said: "The burden of risk in the dairy market has sat on the shoulders of dairy farmers for far too long. As we prepare to leave the EU, the UK dairy market needs to be commercially focused, innovative and competitive. As things currently stand the dysfunctions in the dairy market are clear with milk buyers continuing to use unfair contracts to manage their risk. Milk buyers need to start delivering fair contractual terms for farmers where risk is shared equally between farmers and milk buyers."
Local dairy farmers and NFU Cymru members, Mike Smith and Will Prichard, also addressed their fellow NFU Cymru members at the meeting on their efforts to develop a farmer-led initiative to help tackle water quality issues on farms in Wales.
Jeff Evans, NFU Cymru Pembrokeshire County Chairman, said: "I have always been strongly of the view that taking a farmer-led approach to tackling water quality will deliver far better outcomes for the environment than the approach of introducing rigid and inflexible regulations. I commend Mike Smith and Will Prichard on their efforts to develop a partnership framework to assist farmers to deal with local problems by using local solutions.
"I urge local farmers across all sectors of the industry to engage in the Farming Connect campaign to take action to prevent pollution through the improved management of manures, slurries and soils. Moving forward, the support of Welsh Government for infrastructure investments on-farm will be crucial to help improve water quality. I very much hope that sufficient funds will be made available through the Sustainable Production Grants scheme to help support farmers to take the action required to improve water quality."