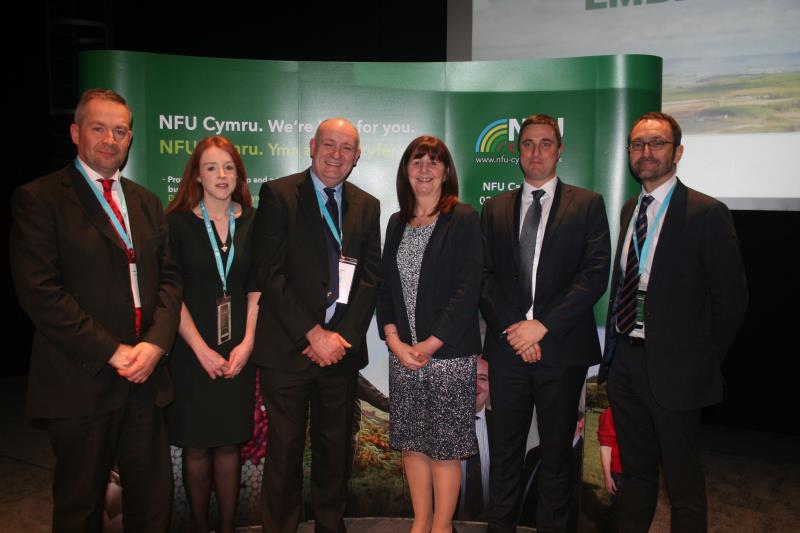 'While representing a significant challenge, Brexit presents an opportunity to shape the direction of the industry to benefit future farming generations in Wales.'
That was the message from NFU Cymru President John Davies, who addressed industry stakeholders and fellow members during an NFU Cymru session with Welsh Government at the annual NFU Conference at the ICC in Birmingham today (Tuesday 20th February).
As part of his address in one of his first major engagements as NFU Cymru President, John Davies used the Welsh Agriculture: Embracing Change for Success session to emphasise the importance of the UK Government securing a deal with the EU27 that enabled farming in Wales to prosper.
"The £7bn Welsh food and farming industry is heavily reliant on free and frictionless trade with our nearest neighbour and this must remain following our departure from the EU in March 2019," he said.
"In terms of securing a bright future for this industry we need a future policy for Wales that supports our primary role as food producers whilst also caring for and enhancing our environment and landscapes. We are asking for an integrated strategy that acknowledges food production and the full range of ecosystem and landscape services provided by the Welsh farming industry. To make this achievable we will need a transition period that is well managed and pilots new initiatives that are developed in full partnership with farmers.
"As President of NFU Cymru I want Welsh farmers to be in a position where they are supported and equipped to face the challenge and take advantage of the opportunities that lie ahead. This is a vibrant, dynamic industry and I want to make sure it continues to progress; I want to ensure that future generations of Welsh farmers are able to prosper from the way we handle the challenge that Brexit presents."
The NFU Cymru session also provided a platform for key figures from Welsh Government, including the Cabinet Secretary for Energy, Planning and Rural Affairs, Lesley Griffiths AM, to outline their thoughts on how they can work collaboratively with the Union to achieve the Union's vision of a productive, profitable and progressive agricultural industry delivering jobs, growth and investment for Wales.
The Cabinet Secretary outlined her vision for land management in Wales post-Brexit and kick-started the conversation with industry as to how this can be delivered.
John Davies said: "I welcome the five core principles set out by the Cabinet Secretary in today's session as I feel they align with our views in terms of policies to keep farmers on the land, supporting farmers for the full range of public goods and services they provide and, crucially, ensuring that future policy has food production at its core.
"She also stressed that there is a need for a well-planned transition period taking place over a number of years in order to take us from the current EU CAP arrangements to a new Welsh land management policy. This transition period is of the upmost importance, both for farmers and the rural economy that relies heavily on the Welsh agricultural industry for so much of its income."
Mr Davies concluded: "We face a period of unprecedented change, but never has the opportunity been greater for us all to work in collaboration to secure a positive future for Welsh agriculture, and indeed, Wales as a whole."