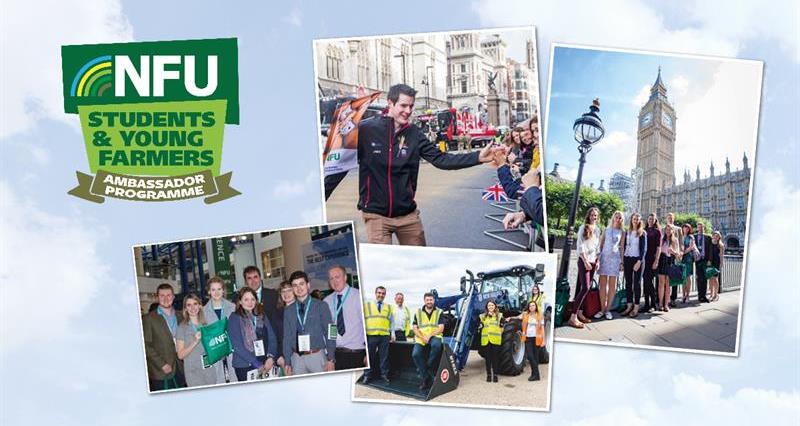 Applications for the 2019/20 Student & Young Farmer Ambassador Programme have now closed, but click here to meet the 2019/2020 ambassadors.
Remember to follow @StudentFarmer and @NFUTweets on Twitter to see how the ambassadors get on in the next year.
********************************************************************************************************************************
The NFU is proud to launch its new Student & Young Farmer Ambassador Programme. We're looking for 8-12 enthusiastic students or young farmers across England and Wales to represent the NFU and experience the best of what it has to offer.
What the programme will entail:
This programme is a year-long series of events designed to give young people the opportunity to engage with the work of the NFU and to put their own stamp on the future of British farming.
Why take part?
This is an opportunity to become an influential member of the UK's biggest farming membership organisation
Network with like-minded individuals from different localities and farming sectors
Experience new aspects of the agriculture industry, including engagement with the media, supply chain, other sectors and how politics can impact agriculture
It will be an amazing asset to add to your CV and a way to engage with NFU boards and forums
It's an opportunity to promote yourself, your college or your business locally and nationally
What's the application criteria?
Be an NFU Student & Young Farmer member (It's free! Sign up at www.nfuonline.com/student)
Aged between 18 and 26 years
To be located in England or Wales
Have a vested interest in farming and rural affairs
Available to attend all events with confirmed dates (see timetable below)
Those with an interest in speaking to the media or writing content for #StudentFarmer magazine
What does it cost?
The NFU and its sponsors will ensure that the programme is free for participants. All food, overnight stays and reasonable travel expenses will be covered as long as participants attend all events. Additional opportunities may arise throughout the course of the programme which are optional and can be undertaken at the participant's own expense.
When do applications open?
Applications have now closed. However, you can still register as an NFU Student & Young Farmer member for free at www.nfuonline/student
The NFU is currently assessing applications and ambassadors will be announced in the very near future.