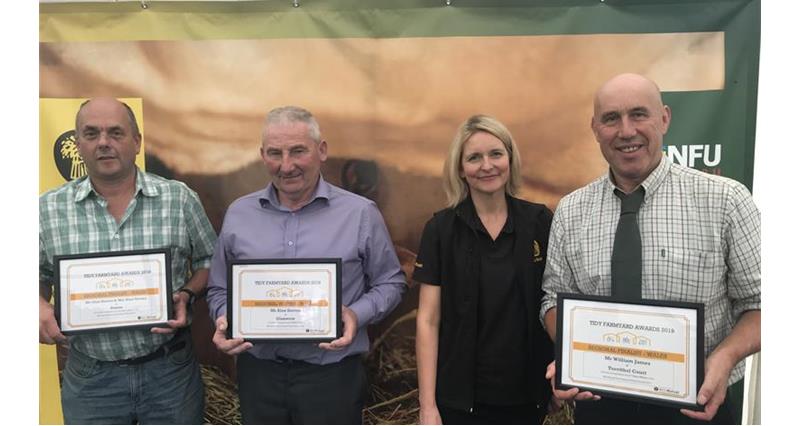 The NFU Mutual Tidy Farm Awards have returned to Wales for a second year, after a successful launch in 2019. Entries for this year's awards opened on 3rd February 2020, promoting farm safety and offering cash prizes to farmers who have addressed common hazards on their farm.
The winner of Wales' tidiest farm will be awarded £1,000, with £500 and £250 awarded to the second and third place entries. Farmers can nominate themselves, or local people can nominate a farm in their area. Family members and friends can also make nominations.
Entries will be judged on eight submitted photographs which show how common farm hazards have been addressed to reduce the risk of an accident.
The photos should show how the farmer:
Separates their farm and home
Stores their vehicles, machinery and equipment
Uses signs and marks routes for delivery
Fences off dangerous areas
Minimises the risks of slips, trips and falls
Entries close on the 23rd March 2020 and the winners will be announced at an awards ceremony taking place at the Royal Welsh Show in July.
The award judges are: Stephanie Berkeley, Farm Safety Foundation; Gwyn Barlow, NFU Mutual Manager for Wales; Dan Killingbeck, Sales Consultant at NFU Mutual Risk Management Services Wales; Hedd Pugh, Rural Affairs Board Chairman for NFU Cymru.
The initiative is being supported by NFU Cymru, NFU Mutual Risk Management Services Limited, the Wales Farm Safety Partnership and the Farm Safety Foundation, the charity set up by NFU Mutual to help farmers work safely.
"The Tidy Farm Awards were set up to recognise farmers who have really gone the extra mile to ensure a safe, tidy and healthy working environment," said Gwyn Barlow, NFU Mutual Manager for Wales.
"After the competition saw a positive response in 2019, we were keen to re-run the event in 2020 and refresh these vital messages. This year, we've extended the number of pictures we will consider per entry from four to eight, giving farmers the best opportunity to showcase what can be done to make farms safer.
"As a mutual insurer which is closely connected with many farms in Wales, we are all too aware to the heartbreak farm accidents cause. Because most farms are homes as well as a workplace, we're running this award scheme as a reminder that safety should be front of mind for the whole farming family."
Details of the award and how to apply are on a dedicated page on NFU Mutual's website: