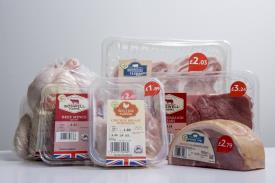 NFU Cymru has welcomed a move by the supermarket chain Morrisons to commit not to introduce own-label 'fake farm' branding.

The retailer's decision comes after it carried out a survey that showed 70% of UK adults objected to the use of 'fake farm' brands.

This recent news follows a commitment from Morrisons earlier in the year to sell meat from only British farms.

NFU Cymru has fought hard on this issue for over a year, bringing the subject to the attention of a national audience on BBC One's Countryfile in September 2016.

NFU Cymru Deputy President John Davies said: "We welcome this commitment from Morrisons not to introduce fictional farm branding in its stores. In our view it is important that product names and descriptions on packaging are clear, accurate and do not mislead consumers.

"We would always encourage shoppers to look out for the Red Tractor logo to ensure the food is produced to the highest welfare standards, and can be traced back to a British farm.

"This is an issue which our members have told us is of paramount importance to them and we applaud Morrisons for taking this honest and transparent approach to what they are selling their customers. We encourage the other major retailers to follow suit as soon as possible."