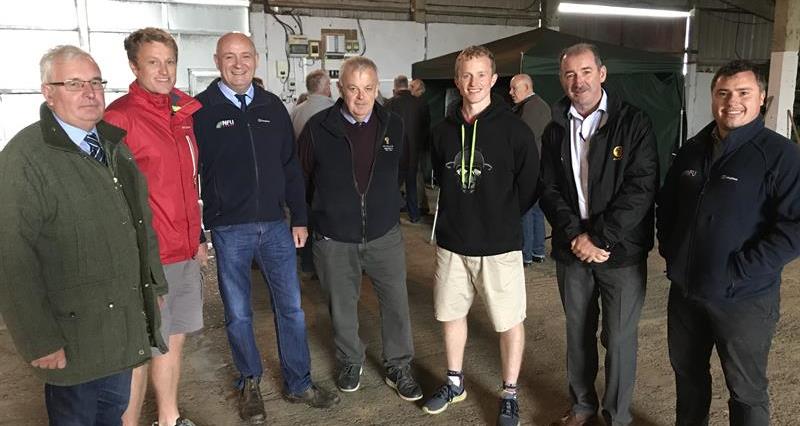 NFU Cymru members in Glamorgan heard from NFU Cymru President John Davies at a recent county meeting held on-farm on the Gower.
At the meeting, which was held at Weobley Castle Farm on the Llanrhidian marsh, by kind permission of Roland Pritchard and family, members were told about the family's Gower Salt Marsh Lamb enterprise. Will Pritchard told members that the sheep graze on the Llanrhidian marshes when the tide allows them to, and also gave members a brief history of the farm and the Gower Salt Marsh Lamb venture.
The meeting itself was held in a modern shed developed by the Pritchard family which is situated on the farm next to Weobley Castle.
John Davies thanked everyone for coming and thanked Group Secretaries Dai Harris, Julian Kelly and Nathan Conlon for all their efforts during their first months of the new Gower partnership.
John then discussed the variety of issues facing Welsh agriculture. He touched upon the implications a 'No deal' Brexit would have on Welsh farmers, in particular the influence that the Government's tariff schedule would have on Welsh produce, with little or no tariffs imposed on goods imported, while almost all agricultural exports to the EU would attract high tariffs.
John told members that he is motivated by the next generation of farmers and the continuing existence of family-run farms. John also touched upon educating the next generation of farmers, as well as consumers, to ensure they are informed when it comes to making decisions about their future careers and food-buying choices.
NFU Cymru Glamorgan County Chairman, Gwyn Thomas said: "I'd like to thank John for his frankness and honesty when talking about dealing with a 'No deal' Brexit as well as the other issues facing Welsh agriculture.
"I'd also like to thank Roland and the Pritchard family for hosting our meeting. It was great to see so many members coming out, on a terrible day weather-wise, to hear about this fantastic enterprise as well as the important issues we are all currently facing."