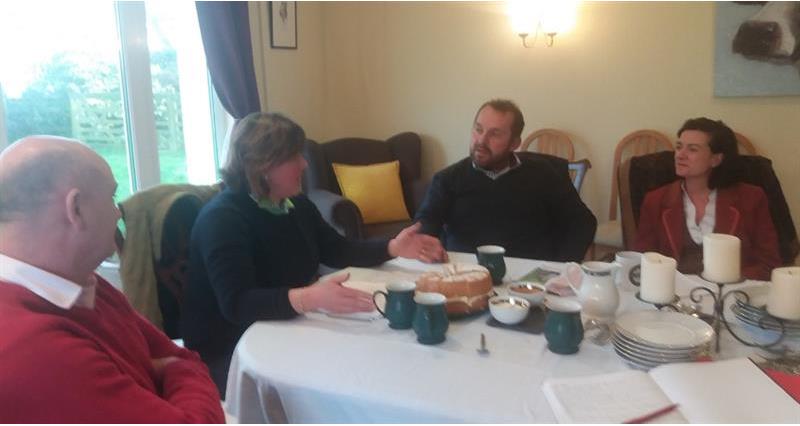 A small group of NFU Cymru members recently met with Mid and West Wales AM, Eluned Morgan in Pembrokeshire.
The meeting, hosted by Matthew Evans at Lochmeyler Farm near Solva, Pembrokeshire was an opportunity to discuss a number of issues of concern to farmers in the locality with one of their Assembly Members.
With Brexit less than 20 days away, the issue of the UK's departure from the EU was top of the agenda. NFU Cymru President John Davies, who was at the meeting, said: "It is incredible that the political paralysis at UK level, has taken us to the cusp of leaving the EU with no idea of what sort of future relationship we might have with our nearest and most valuable international market. Along with very many of NFU Cymru's members, I find this situation deeply concerning and incredibly frustrating as it makes it impossible to forward plan for our businesses, businesses which typically have long and complex production cycles.
"The EU27 is our main trading partner, with around 60% of our food, feed and drink exports destined for European markets. If, at the end of the month we leave the EU with 'No deal' then our exports will face the same tariff rates as goods from third countries. At the moment we have absolutely no idea what tariff rates will apply to goods entering the UK, or indeed what standards of production will be demanded of overseas producers. We could therefore find that tariff barriers and red-tape shut us out of our EU export markets, whilst goods coming into the UK will not be subject to the same tariffs, and may well be produced to lower standards."
Also up for discussion was Welsh Government's Brexit and Our Land Consultation. NFU Cymru Pembrokeshire County Chair, Clare Morgan said: "We will shortly be emerging from almost half a century of participation in the Common Agricultural Policy. Whatever new policies Welsh Government decides upon we have to move towards them gradually and not overnight, in order to give the industry time to adjust to the new arrangements. We also need to ensure that future policy is robustly piloted and tested on farm until they are shown to be working, before they are more widely rolled out"
Mrs Morgan went on to say: "I'm proud of the fact that agricultural production in Wales underpins a food and drink processing sector worth almost £7bn a year to our economy, and supports over 240,0000 jobs. The expansion we have seen in the sector in recent years means it is now on the verge of achieving the 30% growth target set for it in 2014 by Welsh Government. Through continued investment in primary production and sending out the right signals to farmers, I believe that Welsh Government can ensure that farmers continue to provide the sector with the raw materials it needs to maintain its growth."
Concluding the meeting, Mrs Morgan said: "I am grateful to Eluned Morgan for making the time to meet with us today and listening to our views on a range of issues. I very much hope that Eluned can take some of these important messages back to Cardiff Bay."
Eluned Morgan AM said: "I share the concerns of the farming community as the deadlock over Brexit continues at Westminster. A 'no-deal' crash out, is a complete failure of the UK Government to act in the best interests of our farming and rural communities, especially so here in Wales. The European market is too important to our Welsh economy for it to be further damaged by a 'no-deal' or a bad deal. Rural businesses need urgent assurance that the UK Government will act in their interests before we exit the EU on March 29th.
"Despite that uncertainty, we can be proud of the fantastic contribution Welsh agriculture makes to our rural economy, in particular by supporting thousands of jobs. Pembrokeshire has a growing food and drink sector, and it was a pleasure to meet with Matthew Evans at his farm. As a champion of our food producers at home and abroad, I am pleased that despite the challenges faced by the sector, more farms like Matthew's are diversifying, raising standards and working hard to meet increasing demand for locally made produce. "