NFU Cymru has released a new document outlining what the Union would like to see for a new Domestic Agricultural Policy for Wales post-Brexit.

The Vision for the Future of Farming: A New Domestic Agricultural Policy document is designed to outline the exciting opportunities that a new agricultural policy for Wales could provide as the UK enters a new relationship with the European Union.

The document proposes a single integrated flexible framework with a number of key elements that will support farm businesses to become more productive, profitable and progressive, which in turn will deliver jobs, growth and investment for every constituent in Wales whilst also maintaining and enhancing the environment.

The key principles that NFU Cymru sees as being integral to a new agricultural policy centre around three key themes; volatility, productivity and the environment.

A bespoke agricultural policy offers the opportunity to construct a multi-faceted policy with different instruments targeted at specific issues and delivering clear and multiple benefits for society. NFU Cymru firmly believes that while such a policy should take a pan-industry approach, it should also be designed to recognise the specific challenges facing each farming sector; it should enable farm businesses to develop to take advantage of emerging market opportunities; also retaining the flexibility to respond to new challenges as and when they arise.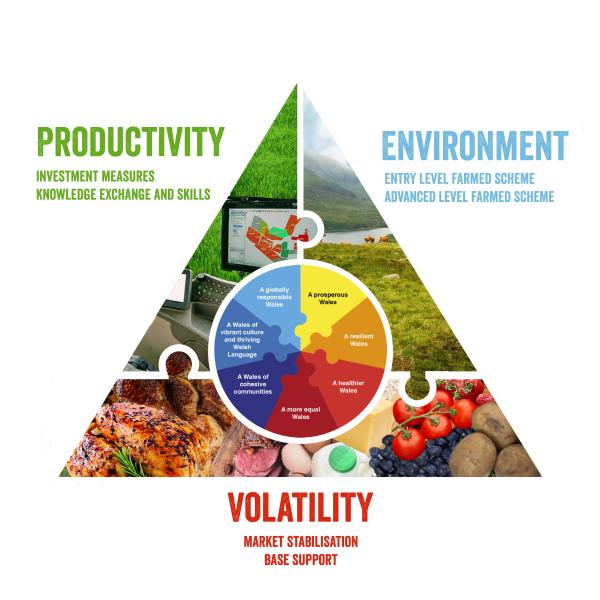 NFU Cymru President Stephen James said: "It has been a year since the UK voted to leave the EU and although negotiations over the terms of the UK's departure from the European Union are finally underway, there is no getting away from the fact that this is a period of profound uncertainty.

"However, the changing political landscape also provides us with a unique opportunity to set out a clear vision for the future of Welsh agriculture; to shape and develop policies that will enable us to realise our ambition of a productive, profitable and progressive farming industry in Wales. Wales will no longer be governed by a Common Agricultural Policy that does not acknowledge the huge variations in farming that exist on a continent that spans from Greece and Cyprus to Sweden and Finland - this is an opportunity to deliver what is in the best interests of Welsh farming, and consequently, Wales as a whole.

"Most of all NFU Cymru believes that a new agricultural policy and legislative framework allows for the establishment of a new deal with society – a stable and transparent consensus on what farming can deliver for the economy, for consumers and the environment. It would be a deal that recognises and values the full range of goods and services provided by farmers.

"Governments in Cardiff and Westminster must maintain current levels of investment for farming in Wales to ensure Welsh farmers remain competitive and can continue to produce food to the highest standards. It is important that support given to Welsh farmers through this new framework is simple to administer, easy to understand and directed at businesses who take the financial and entrepreneurial risks associated with food production.

"In these times of impending change it is also important to consider how these changes will be implemented. The document underlines the importance of a transitionary period from current arrangements to a new agricultural policy and framework and suggests that such a process is carried out over a number of years. This will be important in lessening the impact on the industry's productive capacity, continuity of supply to the food chain and ensure the ongoing delivery of environmental management and enhancement.

"I hope this document acts as the basis for discussion throughout the summer show season and that members can take the values of this proposal on board and help us drive forward our ambitions when they meet with policy makers and key stakeholders over the coming months."
Read the full document here