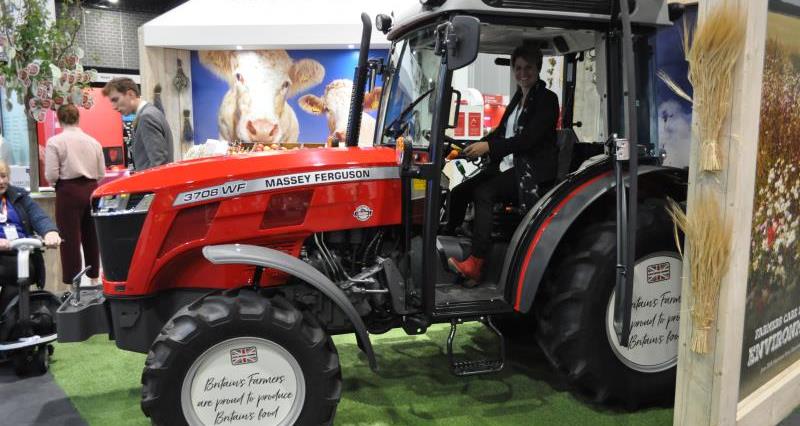 Representatives from NFU Cymru have been engaging with elected representatives from the three main political parties in Wales during party conference season.
NFU Cymru was present at the Conservative, Labour and Plaid Cymru conferences during the autumn, using the opportunity to highlight the importance of the Welsh farming sector and its vulnerability to a bad Brexit deal to MPs, AMs and conference visitors.
­­
Delegates attending the Labour Party Conference in Liverpool were greeted by the sight of a Massey Ferguson housing a virtual reality harvest experience on the NFU stand. Those in attendance were also given the chance to sample the best of British food and drink. Among the politicians NFU Cymru engaged with at the event were Shadow Chancellor John McDonnell, Shadow Trade Secretary Barry Gardiner, Shadow Defra Secretary Sue Hayman, Shadow Home Secretary Diane Abbott and Shadow Secretary of State for Brexit Keir Starmer.
The NFU stand was voted 'Best Stand' at the Labour Party Conference.
The following week NFU Cymru travelled to the ICC in Birmingham for the annual Conservative Party Conference. The eye catching Red Tractor was again in attendance at the conference and provided a visual symbol for the high animal health and welfare standards of the food and drink produced by hard-working British farmers, samples of which were available for members to taste. The NFU stand saw visits from over 550 delegates and politicians including the Prime Minister Theresa May, the Home Secretary Sajid Javid, Defra Secretary Michael Gove and Business Secretary Greg Clark.
NFU Cymru President John Davies said: "This is a critical time for our industry so it has never been more important for NFU Cymru to be in attendance at these political showpieces to highlight the importance of Welsh farming to politicians, key decision makers and influencers.
"I was really pleased with the level of engagement we had with representatives at both the Labour and Conservative party conferences and it was encouraging to see so many MPs pledging their support for our industry. I hope to see that backing continue as we move through the Brexit negotiations and into a new chapter for the UK."
The final conference destination for NFU Cymru this autumn was the Plaid Cymru Conference held in Cardigan on 5th and 6th October, where NFU Cymru President John Davies and Deputy President Aled Jones met with a number of Plaid Cymru representatives including new Plaid Cymru Leader Adam Price, former leader Leanne Wood AM, Llyr Gruffydd AM, Elin Jones AM and Jill Evans MEP.
The NFU Cymru officeholders were in attendance at the event to see Adam Price AM deliver his first speech as the Leader of Plaid Cymru, in which he outlined his backing for Welsh farmers. His speech was followed by an emergency motion, moved by Llyr Gruffydd AM, calling for Welsh Government to ensure that Wales' future agricultural support retains direct support as a core element of a future Welsh agricultural policy.
As part of the conference NFU Cymru President John Davies also participated in a panel debate on the main stage.
NFU Cymru President John Davies added: "We were delighted to see the level of support and understanding for the challenges facing Welsh agriculture from new Plaid Cymru Leader Adam Price, Llyr Gruffydd and their colleagues. NFU Cymru has always stated that Welsh farmers will suffer, and food production will be severely hit, if an element of stability support is not maintained in any new Welsh agricultural policy, so we are pleased that Plaid Cymru has shown its support."