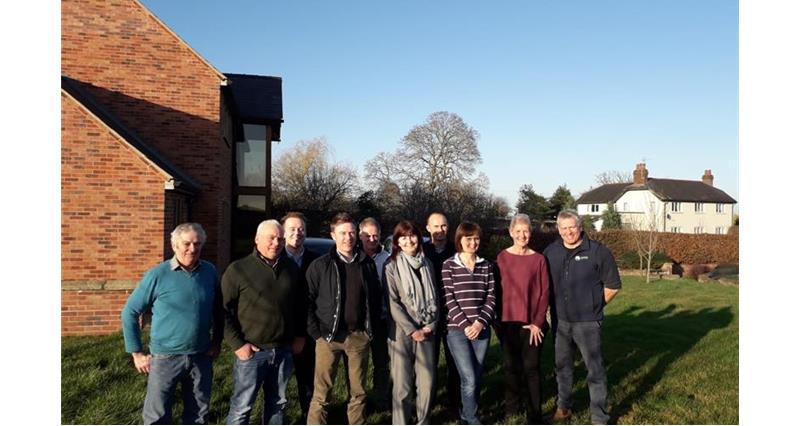 The Minister for Environment, Energy and Rural Affairs, Lesley Griffiths AM, recently visited a farm in her own constituency to discuss bovine TB. Accompanying the Minister to the dairy farm, just outside Wrexham, was the Chief Veterinary Office for Wales, Christianne Glossop.
NFU Cymru members in the area questioned what was causing such an increase in the amount of new incidents of bovine TB in the Intermediate North Region (ITBAN). This is something that Welsh Government is investigating and it was highlighted that in this part of Wales, cattle movements play a pivotal part. The importance of making informed purchasing decisions was stressed and to achieve this it is vital that as much information as possible is made available at the time of purchase of cattle.
As there is so little information about the amount of infection in the wildlife population, the importance of the Welsh Government, Badger Found Dead survey was highlighted.
NFU Cymru County Adviser for Clwyd Joe Mault, said: "There is an urgent need to get an accurate picture of the disease in both the cattle and wildlife populations across North East Wales. I would urge anyone who comes across a dead badger to report it through the survey hotline on 0808 169 5110. This will ensure a better understanding of the risk wildlife pose to cattle herds in North East Wales."
The issue of proposed new water quality regulations was also raised during the meeting. Members felt that an all-Wales NVZ would be totally disproportionate and the current climate of uncertainty over future trade deals could cause many to consider their future in the industry.
Mr Mault added: "I would like to thank Huw and Sharon Jones for hosting the visit and the welcome they gave to other NFU Cymru members in the area. I would also like to thank the Minister and the Chief Vet for taking the time to meet with NFU Cymru members to discuss important issues that affect the day to day running of their businesses. It was important to have an open conversation about some difficult subjects and we very much hope that the Minister will take on board a number of the issues that our members were able to raise on the visit."