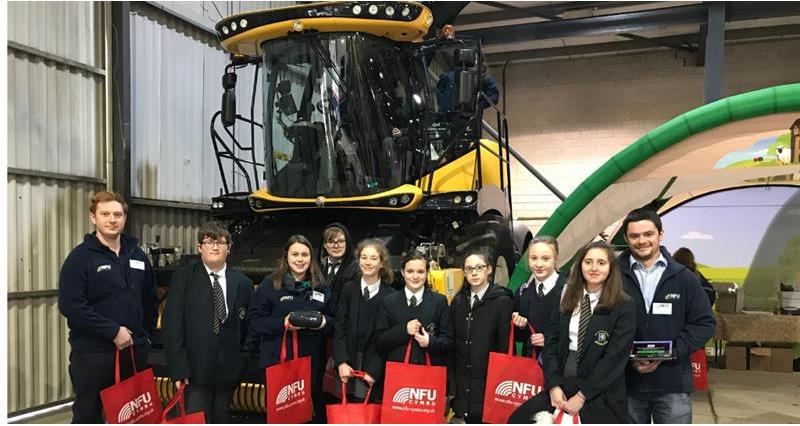 Members of NFU Cymru's Next Generation Group have been promoting Welsh farming and inspiring Powys pupils to consider a future in agriculture as part of a careers event on the Royal Welsh Showground.
24-year-old Josh Millichap who farms in Pontfaen, 21-year-old Builth Wells farmer Sian Davies and Llanerfyl sheep farmer Matt Launder, 26, attended the Choose Your Future Powys Careers Festival on Wednesday 6th March to promote careers in the Welsh food and farming industry to more than 3,000 students from schools and colleges across Powys.
The trio of young farmers, who were accompanied by NFU Cymru Brecon & Radnor County Chairman Rob Lewis, NFU Cymru Montgomeryshire County Chair Alex Higgs and members of the union's team of staff, were on hand to answer student's questions about the Welsh agricultural industry and sell the opportunities for budding entrants.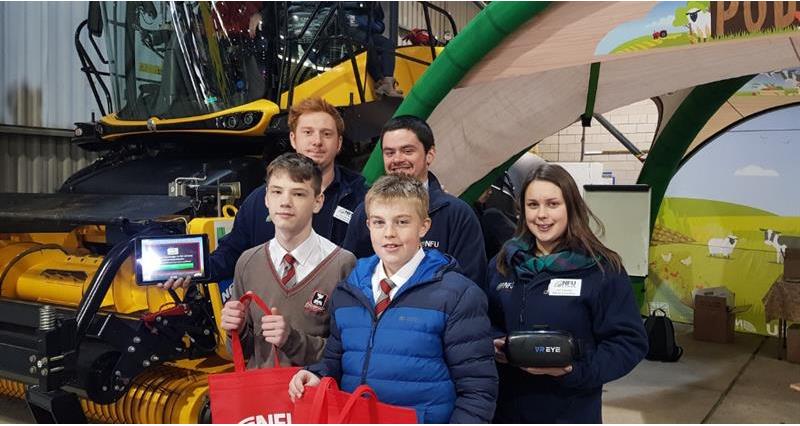 The attractions on the NFU Cymru stand included an interactive 360 degree v?irtual reality combine harvesting experience in a large New Holland Forager, along with a #BackWelshFarming quiz where participants had the opportunity to win a range of prizes. Visitors to the NFU Cymru stand were also treated to a sample of Welsh Aber Valley Apple Juice and an NFU Cymru goody bag containing the latest edition of Student Farmer magazine.
Among the visitors to the popular NFU Cymru stand was Welsh Government Minister for Education Kirsty Williams, who took part in the iPad quiz and VR harvest experience.
NFU Cymru Next Generation Group member and Builth Wells farmer Sian Davies said: "It was great to be on the NFU Cymru stand and promote all that's great about the Welsh agricultural industry to pupils in Powys. Agriculture is the biggest sector of employment in my home county of Brecon & Radnorshire, so it's important that the industry is well represented at events of this nature.
"All members of the NFU Cymru Next Generation Group are really passionate about our role as farmers in producing the nation's food and caring for our environment and landscapes, so it was brilliant to hear that there are so many like-minded young people in Powys who want to join this exciting and dynamic industry. It was pleasing that we had such high levels of engagement throughout the day – it's clear that young people see a bright future for Welsh farming."
If you, or someone you know, is interested in signing up for our free student membership - which includes benefits and a copy of Student Farmer and Farming Wales magazines - visit www.nfu-cymru.org.uk/membership and follow the links for 'Students & Young Farmers Membership'.