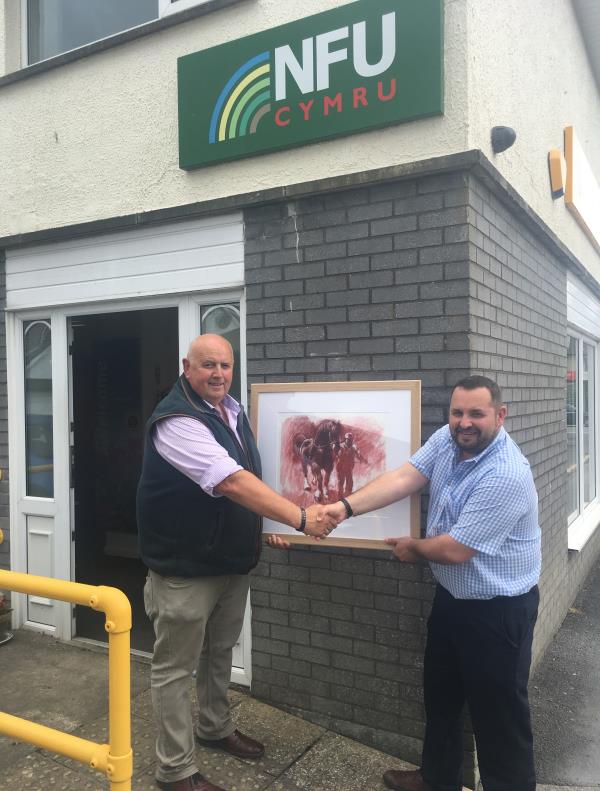 A longstanding member of the NFU Cymru team is celebrating 25 years' service with the Union.
Dai Morgan, the Senior Group Secretary of the NFU Cymru/NFU Mutual Newcastle Emlyn branch in Ceredigion, has been presented with a long service award by NFU Cymru Ceredigion County Adviser, Peter Howells on behalf of the organisation.
Whilst the last 25 years have seen changes to the industry, and indeed the role of the Group Secretary, Dai continues to provide an excellent local service looking after both the financial and business interests of the NFU Cymru farmer and grower members from his offices in Newcastle Emlyn and Llanybydder.
Dai started his career as a Group Secretary in 1993 which coincided with the MacSharry reforms of the Common Agricultural Policy. These reforms resulted in major changes in the way that EU agricultural support schemes were administered and included the introduction of the Integrated Administration and Control Systems (IACS).
These changes required farmers to submit exact details of the field areas on which they claimed support payments and presented a huge challenge to them in terms of the level and detail of mapping and form filling that was required. Dai and the NFU Cymru/NFU Mutual Group Secretary network were instrumental in helping farmers across Wales cope with these new reforms.
During the last 25 years Dai has seen a number of other challenges to the industry, including numerous CAP reforms, disease outbreaks and of course the latest developments around Brexit. The changes have all contributed to a general increase in regulatory burden and Dai has been an invaluable source of advice and support to local NFU Cymru members throughout his career.
Reflecting on his 25 years' service, Dai said: "There have been some significant changes in Welsh agriculture since I began my role in 1993. The one constant, however, is the importance of farming and the crucial role it plays in supporting the rural economy and communities and the role of NFU Cymru is more important than ever before as we look to ensure that the interests of Welsh agriculture are promoted at the highest levels.
"Since starting as a Group Secretary I have seen the level of on farm paperwork increase significantly - whether it be filling in the BPS forms, or coping with the myriad of regulations that exist around every day farm tasks. This said, I am glad that I can help members get through these struggles and look forward to many more years at the helm."
John Mercer, Director of NFU Cymru said: "I'd like to congratulate Dai on his fantastic achievement of reaching 25 years' service within NFU Cymru. The commitment and loyalty he has shown in reaching this milestone is an inspiration to us all and to spend such a big proportion of a working life with one organisation is an amazing achievement.
"Dai is held in high esteem throughout the organisation and the hard work, commitment, dedication and enthusiasm that he has given NFU Cymru is greatly appreciated by all involved in the organisation and industry."