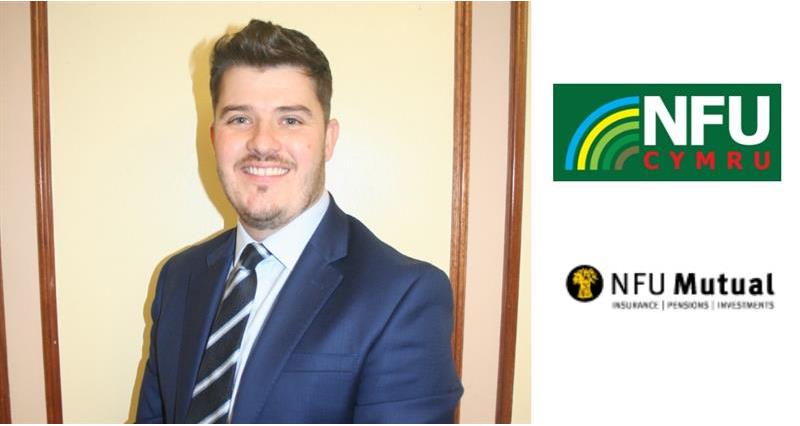 Nathan Conlon has recently been appointed as the new Group Secretary at the NFU Cymru/NFU Mutual Swansea office.
Born and bred in the village of Pencoed, he now lives in Coity, near Bridgend, with his wife and four children. They have a small holding where they keep a small flock of Balwen sheep a handful of chickens and a vintage grey Fergie tractor.
Nathan's mother's family originate from Alltwen, near Pontardawe and he studied Business Economics at Swansea University, before working at Lloyds TBS and Bradford & Bingley, where he worked his way up to the mortgage adviser role.
Nathan is no stranger to the NFU Mutual network having worked within the company for 10 years. He was previously an assistant agent at the Brecon office for three years, before joining the Bridgend NFU Mutual office, and in 2014 he became a partner there alongside Julian Kelly and David Harris.
Speaking upon his appointment, Nathan said: "Having worked within the NFU Mutual network for many years I am really looking forward to the new challenge ahead of me. I look forward to getting out and engaging with the farming community, promoting the great work undertaken by NFU Cymru in providing a voice for Welsh agriculture.
"My aim is to be as visible and approachable as possible, and, by having a presence at key events, I will aim to listen to the membership to fully understand the local key issues."
John Mercer, NFU Cymru Director added: "Although Nathan is no stranger to the NFU Mutual network, I would like to welcome him to the NFU Cymru team. He has a wealth of knowledge and understands the current issues facing farmers. His previous experience will allow him to provide first class advice and guidance to our local members on key policy issues."
The friendly Swansea team is made up on four members of staff and is located at 15A Axis Court, Mallard Way, Riverside Business Park, Swansea Vale, SA7 0AJ. Anyone who would like to meet with Nathan should phone the office on 01792 823798 or pop in to the office.