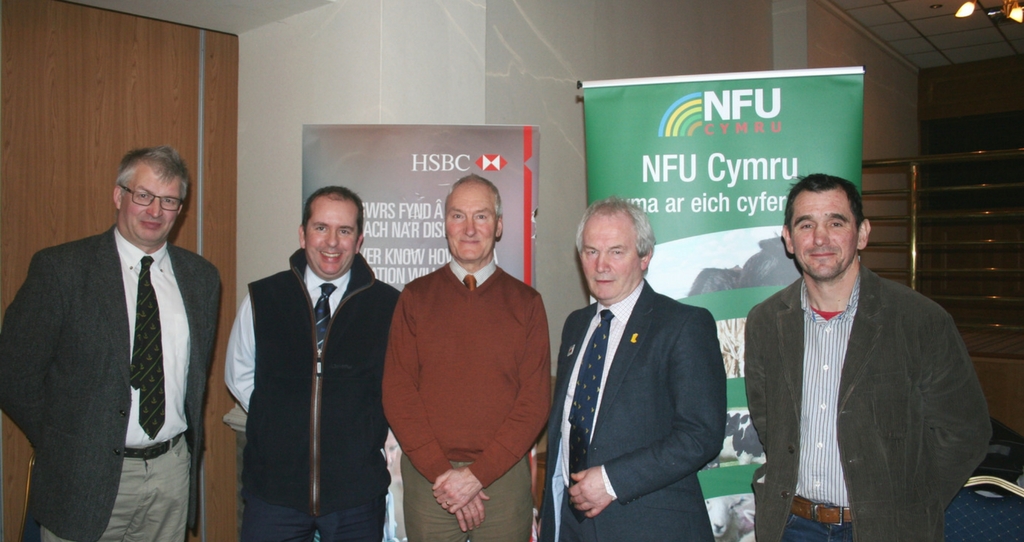 'Farmers must produce a product with the consumer in mind and make them want to buy Welsh first'. That was the message from Prima Foods and Celtic Pride Director Tim Rowe, who was guest speaker at the recent NFU Cymru Carmarthenshire County Conference.
Mr Rowe, who is also Food Technology Consultant at Castell Howell, provided NFU Cymru members with a fascinating talk looking at market trends and how the industry must create a brand identity that speaks to its customers.
Speaking at the event held at the Ivy Bush Hotel in Carmarthen on Monday 8th January, Mr Rowe said: "It's all about meeting the requirements of the chefs and meeting the requirements of the consumers – a large part of that is the selection of the livestock.
"At Celtic Pride we're focusing on animals that are native bred, relatively low maintenance and finished on grass or spend most of their time on grass - that seems to be what the market is after. This is what the chefs that we are supplying are telling us. They want to know what the story is and what's different about our product."
Mr Rowe said that PGI accreditation for Welsh lamb and beef had a key role to play in helping customers understand a product's provenance, but that a clearer system was needed to help producers understand the quality that they are buying when they buy Welsh.
"Currently, in Wales, when you sell your beef you know the weight, the grade, the fat class of the animal and the sex, but that's pretty much it. In terms of how we assess the eating quality of it, that's all we have to go on.
"We need to look at qualities like grass fed, naturally reared native breed influence, marbling and we need to ally them to a system that assesses that quality and tells the consumer – clearly - what they can expect because, with all due respect, the consumer isn't an expert on meat. I suspect that most consumers when they go into stores now are actually highly confused as to what they should be buying.
"There are so many factors that affect meat eating quality. What we need to know is how we produce a product that is going to consistently hit the mark with the consumer to make them want Welsh beef first. We need to grow our market and we need to have the right information behind it backing it up. You guys need to be getting clear messages back from the processors to find out what it is that you need to be producing to meet the market demand."
NFU Cymru President Stephen James also addressed Carmarthenshire members on a number of issues concerning the Union's work and priorities, including Brexit, bovine TB and NVZs.
NFU Cymru Carmarthenshire County Chairman Huw Davies, who took over the role from his previous County Chair Garry Williams during the meeting, said: "I am really pleased that we have managed to acquire a speaker of Tim's quality to tonight's meeting and it was great that we had such a bumper crowd in attendance to listen to his insightful presentation.
"I want to thank outgoing Chair Garry Williams for his dedication and commitment to the role over the last two years, and I am pleased that he will continue to work on our behalf with Dyfed-Powys Police on rural crime issues as this is an area where he has made great headway. I am very much looking forward to my tenure as County Chairman of NFU Cymru in Carmarthenshire. In the coming weeks I will be working with NFU Cymru staff and members to plan our activities and priorities for the coming year."
NFU Cymru would like to thank HSBC Bank for sponsoring this year's 11 county conferences across Wales.