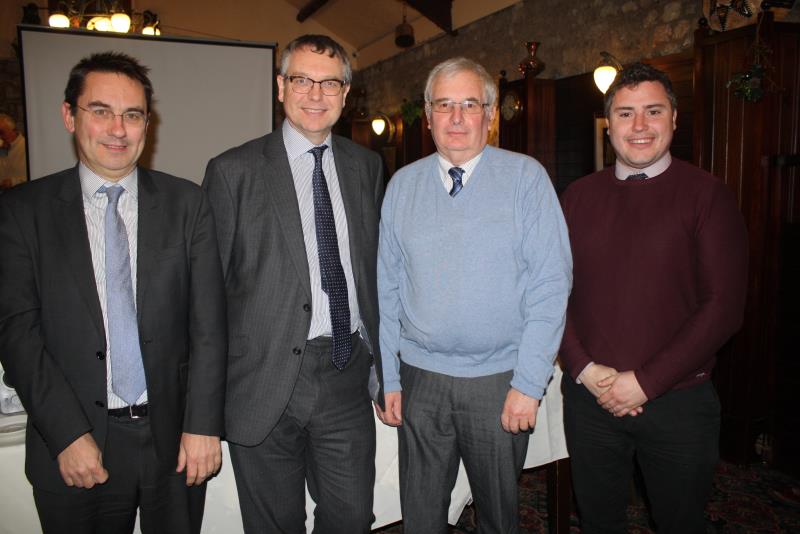 Farmers attending the NFU Cymru Glamorgan County Conference in Pencoed on Monday 26th February received a Brexit update from a leading Welsh Government official.
Guest speaker for the evening was Dr Tim Render, Director for Environment and Rural Affairs at Welsh Government, who used the opportunity to echo calls made by the Cabinet Secretary for Environment, Planning and Rural Affairs, Lesley Griffiths AM, about the future of land management in Wales post-Brexit.
Dr Render outlined the five core principles that underpin Welsh Government's vision for a new Wales land management policy, namely: keeping Welsh farmers on the land; ensuring a prosperous and resilient future for Wales post-Brexit; delivering public goods for the people of Wales; a system of support accessible for all; and championing sustainable food production to help farmers compete in the global marketplace.
The meeting also provided outgoing County Chair Abi Reader with the chance to summarise her time in post before handing over the reins to incoming chairman Gwyn Thomas.
NFU Cymru Deputy Director and Head of Policy, Dylan Morgan, provided members with an update on the Union's policy work over recent months, highlighting the work carried out with the Cabinet Secretary for Energy, Planning and Rural Affairs around water quality.
R.A.B.I Regional Manager Linda Jones spoke to members about the charity's work supporting farming families in the region, and thanked Glamorgan members for their recent fundraising activities.
NFU Cymru Glamorgan County Chairman Gwyn Thomas said: "I wish to thank Dr Tim Render for joining us for our meeting and sharing Welsh Government's position on Brexit. It is clear that this is still a great time of uncertainty for everyone in Wales and the decisions made by politicians at Welsh and UK level in the upcoming months will have a huge bearing on the shaping of our industry.
"I would also like to thank out going County Chair Abi Reader for the fantastic job she has done for Welsh farming for the last four years. I also want to thank Euryn Jones and his team at HSBC for sponsoring this season's series of NFU Cymru conferences."