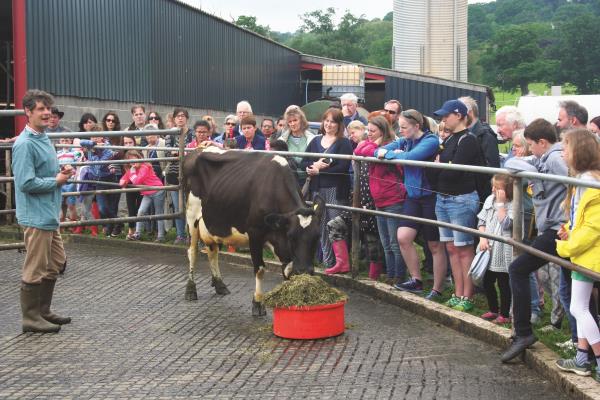 Visitors at last year's Hay Festival
Visitors attending the forthcoming Hay Festival are once again invited to join local farmers on guided tours of their farms, to learn more about where and how food is produced.
Three different farmers have volunteered to open their gates for the general public to enjoy tours of practical working farms. The first tour takes place on Tuesday, 29th May, at Andrew and Rachel Giles' dairy farm, Maesllwch, Glasbury-on-Wye.
This is a modern dairy farm producing as much milk as possible from grass and other forage. Visitors will be able to see cows being milked and how the milk is the chilled before being stored in a bulk tank awaiting collection. There will also be a cheese making demonstration and an opportunity to see the calves born this spring.
The second tour takes place on Wednesday 30 May with David and Catherine James at Trevithel Farm, Pontithel. The family farm produces cider apples and visitors will be able to visit the orchards which may still be in blossom and to see how bees contribute to pollination and then see a demonstration by a local bee keeper on how honey is made.
The third and final tour will take place on Friday, 1 June, at Charlie and David Blandford's farm, Brobury, alongside the River Wye, which produces top quality lamb and arable crops. The visit includes a farm walk followed by demonstrations of working sheepdogs, sheep shearing and wool spinning.
Robert Lewis, NFU Cymru Chairman for Brecon and Radnor said: "Brecon and Radnor NFU Cymru county branch are pleased to sponsor this event once again and I thank all the other sponsors for their contribution. These farm tours get more and more successful and popular with visitors every year. The Hay festival attracts thousands of visitors to the area which is an ideal opportunity to inform the general public of where food is produced and the merits of buying home-produced food."
Jonathon Harrington, who started the tours 13 years ago and continues to organise them each year said: "It is all about re-connecting people with how and where food is produced and we are most grateful to all of the host farmers for agreeing to allow visitors into their homes to see how farms operate. The uptake for the tours has been extremely encouraging and I hope this is a reflection of the general public realising the important role farmers play in terms of food production and protecting the landscape."
There will be plenty of opportunities to see how farmers manage their land and minimise effects on the environment.
Tickets are selling out fast and are available via the Hay Festival box office on 01497 822 629 for anyone wishing to attend.