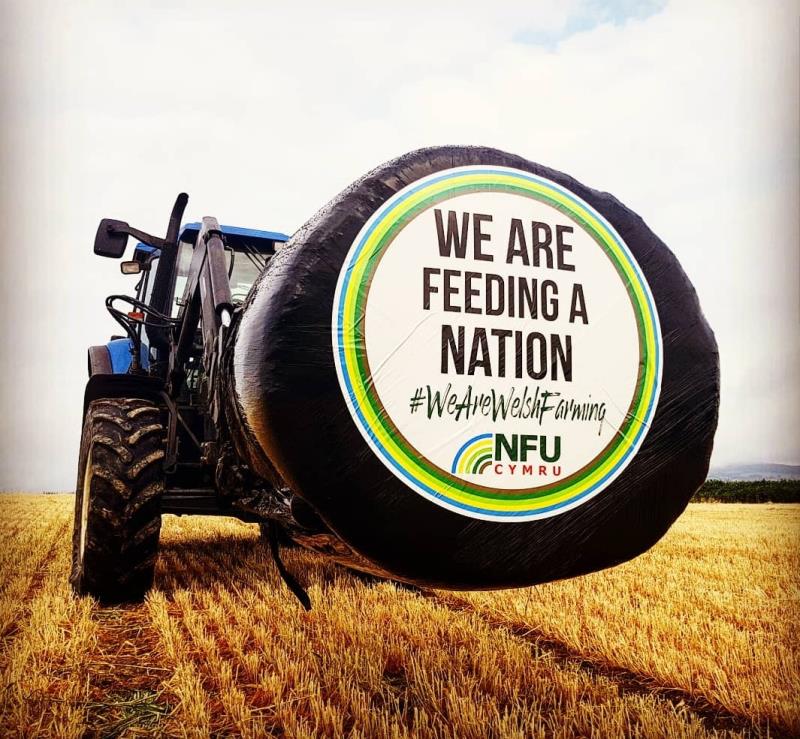 Farmers' role as providers of Wales' food, environment and landscapes has been highlighted in NFU Cymru's new bale sticker and gate banner campaign ahead of the Royal Welsh Show.
The major routes to the Royal Welsh Showground in Llanelwedd will once again be lined with NFU Cymru's campaign message thanks to colourful gate banners and eye-catching bale stickers highlighting the important contributions that Welsh farmers make to producing our nation's food, caring for and enhancing the environment and providing the backdrop for scenery that attracts millions of tourists every year.
NFU Cymru's new bale stickers feature three simple messages – We Are Feeding a Nation, We Are Enhancing the Environment and finally We Are Supporting Tourism. The gate banners, which feature the same important messages, also feature pictures of the food Welsh farmers produce, the beautiful environment enhanced by farmers on a daily basis, and one of the many Welsh mountains that tourists come from far and wide to climb each year.
John Davies, NFU Cymru President said: "As Welsh farmers we produce the nation's food, we care for, and enhance, our environment and we support the Welsh tourism industry – this is something to be extremely proud of. With Brexit looming, it is a vital time for our industry and we need farmers to be loud and proud about the work they do – these new bale stickers and gate banners are the perfect way for Welsh farmers to tell everyone about the important role they play for Wales.
"The new design of this year's bale stickers and gate banners stand out along Wales' roadsides and the routes to Builth Wells are already lined to remind those travelling to the Royal Welsh Show just how vital Welsh farmers are to the economy. We want to show everyone just how much work Welsh farmers do to put food on the tables of every home in the country, to look after the environment and to support the tourism industry as part of our daily work."
NFU Cymru is asking social media users to help spread the We Are Welsh Farming message by sharing pictures of branded bale stickers and gate banners that they see out on the roads leading to the Royal Welsh Showground and across Wales. Also tell us what Welsh farming means to you – tag your pictures with #WeAreWelshFarming or #NiYwFfermioCymru hashtags to show your support for Wales' farmers. You can find us on Facebook at @NFUCymruOnline and Twitter @NFUCymru