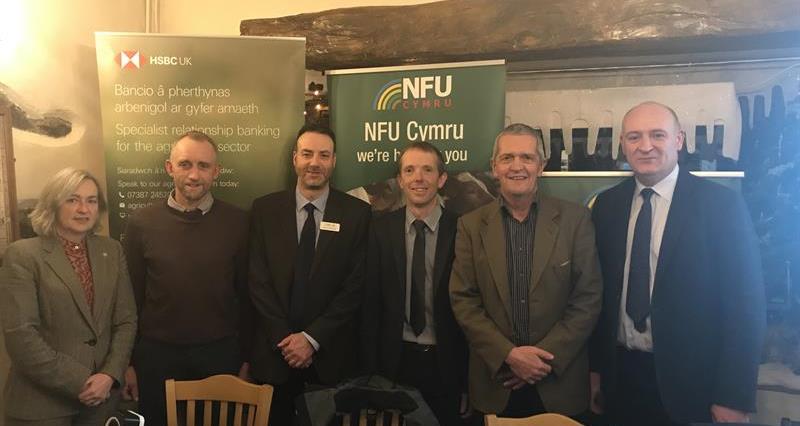 Speaking to members at the NFU Cymru Meirionnydd County Conference, NFU Deputy President Guy Smith underlined the importance of farmers promoting their primary role as food producers.
During the meeting at The Eagles in Llanuwchllyn Mr Smith, who farms a mixed and diversified family farm in Essex, told members that he had spent the day on the farm of NFU Cymru Meirionnydd County Chairman Emlyn Roberts, discussing the contrasts of farming in the hills of north Wales compared to the lowlands on the eastern coast of England.
Mr Smith stressed that despite the differences in climate and topography, farmers across the UK were bound together by producing food for the nation.
He said: "Farmers recognise their role in delivering environmental goods but it is important that this isn't done in a way that downsizes British agriculture so that we don't produce so much. The consequences of that would mean we end up importing far more from other parts of the world to make up the shortfall and it's more than likely that the environmental standards of those imports will be worse and the net effect on the planet will be worse as a result.
"I think now is the time to speak up for the importance of food production and to promote ourselves as responsible custodians of the countryside. We must be wary of future agricultural policy being over dominated by environmental delivery at the expense of food production. I'm convinced if farmers are allowed to be profitable as food producers then they can invest in the farms to deliver on both. I think as farmers we have a moral right to stand up and say 'We should be profitable as food producers, primarily. We will struggle to go green if our businesses are in the red.
"Although I come from a very different place with a very different farm, we are all food producers and that is what unites us. We should never forget that the 'F' in the NFU stands for farming, farming stands for food production and now is the time to stand up for food production."
The meeting also heard from Dwyfor Meirionnydd MP Liz Saville Roberts, who spoke about the pressure Plaid Cymru is putting on Government to avert the devastating impact that a 'No deal' Brexit would have on Welsh agriculture.
NFU Cymru Meirionnydd County President Geraint Rowlands said: "We were delighted to welcome Guy Smith to Meirionnydd and thank him for sharing his thoughts on the industry and what the future may hold post-Brexit. While Guy's arable-based farming operation may be very different to the set-up of many beef and sheep farms here in Meirionnydd, it was heartening to hear him speak of our shared role as food producers. That sentiment of togetherness across farming sectors is going to be important as we face the challenges the future will hold."
NFU Cymru would like to thank HSBC for sponsoring the series of 11 NFU Cymru county conferences held throughout Wales.