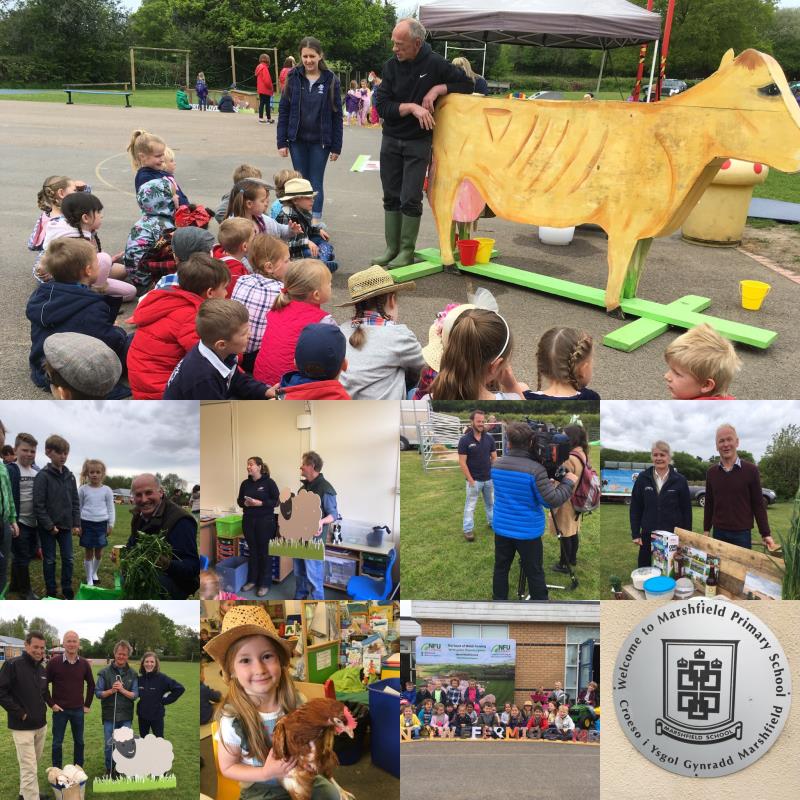 A first class farming experience was given to pupils of Marshfield Infant and Junior School courtesy of the Cows on Tour group, supported by NFU Cymru.
The initiative, originally founded by a group of NFU Cymru members in Glamorgan, has gone from strength to strength with the latest event being deemed as one of the most successful.
Drawing on the expertise of NFU Cymru Monmouthshire officeholders, the fun packed, informative day (Friday 11th May) offered pupils a real insight to all sectors of farming, providing them with the opportunity to ask farmers about the science behind food production, crop rotations, soil structure and grassland management. The story of food from beginning to end was offered with a cooking demonstration by HCC giving children the opportunity to sample PGI Welsh Lamb and beef stir-fry dishes.
Mat Shervington Jones, Chairman of Cows on Tour, said: "We are delighted the children enjoyed their day. A lot of these pupils have not visited a farm so we have brought the farm to their school. The media coverage has been amazing and I am delighted we have been able to give the school their own Environmental corner to expand their knowledge further."
A live milking demonstration, wool manufacturing and egg and poultry production were also explained. A bee hotel was also constructed, the pond was re-landscaped and a hedgehog and bug palace built to give the school something to remember the day and for the learning of food production going hand in hand with the environment and habitat to continue in the future.
Ian Williams, NFU Cymru County Chairman added: "The teachers and children threw themselves fully into the event by dressing as farmers for the day. There was lots of fun and excitement throughout the whole day and I would like to thank the entire school for their enthusiasm and willingness to learn. I also want to thank the sponsors and farmers for making this event so successful. #WeAreWelshFarming"