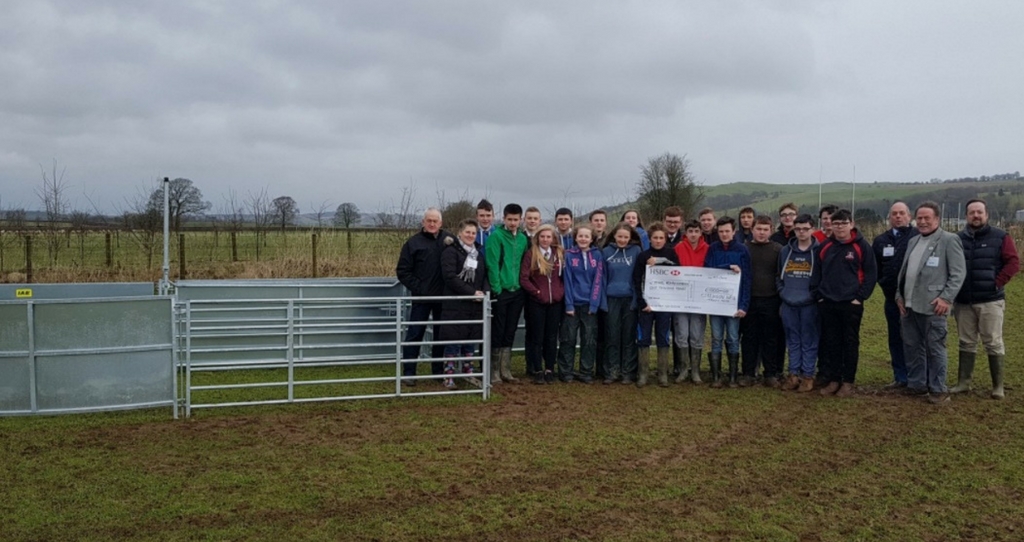 Pictured are members of the NFU Cymru Ceredigion Trust Fund presenting the pupils of Ysgol Henry Richard with a cheque for the newly installed sheep handling system
A trust fund set up by members of the NFU Cymru Ceredigion branch has donated money to Ysgol Henry Richard in Tregaron, which has been put towards the cost of a new sheep handling system.
The trust fund, which was set up in 1998 following the sale of a county building in Aberystwyth, funds students throughout the county who are studying agriculture or a food related subject.
The money, which was donated to the school as part of the trust fund, had been put towards the cost of a new sheep handling system for use by students currently studying a Level 2 BTec in Agriculture, taught by Mrs Eleri James.
Mrs James said: "The new handling system we have been able to install, with the help of the donation, will be invaluable to the pupils' studies. We currently have around 25 pupils, both boys and girls, and also a mixture of those from farming and non-farming backgrounds, taking the course.
"Not only is this new system much safer for the pupils, it also allows them to see how things are done properly, and learn the correct way to use the system. I'd like to thank the Ceredigion NFU Cymru Trust for donating the money to the school, on behalf of myself, as the course leader, and the pupils."
The pupils, who are in years 10 and 11, said there were numerous reasons why the new system was vital for their studies and these included causing less stress on the sheep; making practical work easier; allowing them to work much faster; a more realistic idea of what goes on farm; and it allowed everyone to get involved.
They also said that there was a lot of interest in agriculture in the school, not just in years 10 and 11, but from the younger pupils as well. They said they sell their own produce in the Christmas Fair and are involved in the whole process.
Aled Davies, NFU Cymru Group Secretary and Secretary for the Ceredigion NFU Cymru Trust Fund said: "The fact that this fund can help so many pupils is exactly why it was set up. It allows us to keep the money in the local community and means we can support the next generation of farmers coming through the ranks."
Anyone in the Ceredigion area who would like some more information about receiving a grant through the fund should contact the Aberaeron NFU Cymru Office on 01545 571778.