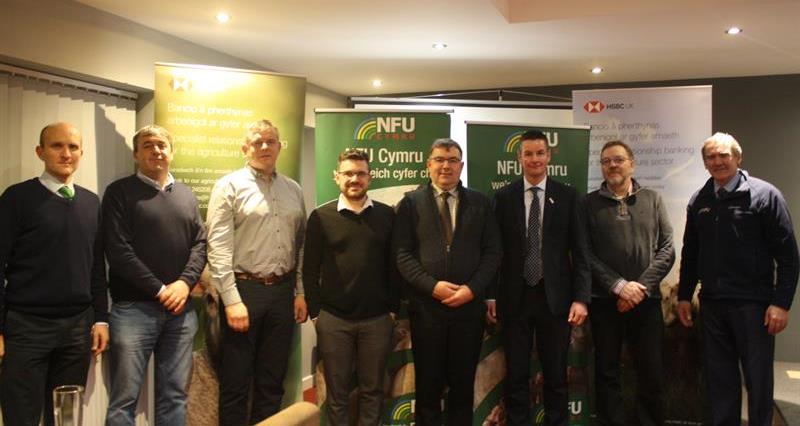 NFU Cymru members on Anglesey met recently for their annual county conference where they heard from lecturer at IBERS, Aberystwyth, Dr Iwan Owen about grassland management.
Held at Cartio Mon, Bodedern, Dr Owen told members about his role as one of the judges on the panel of the British Grassland Society's Grassland Management Award. He went through the five farms he visited, along with Euryn Jones, HSBC and David Thomas, the winner from the previous year, and told members what made their farms stand out.
Each farm was run slightly differently, but Dr Owen's key messages for good grassland management were to plan, monitor and react. He said despite very tough weather conditions that planning ahead for every eventuality, regular monitoring of how grass is reacting to different circumstance and reacting as quickly as possible when a problem occurs, will all help.
He also said that nutrient management is key and knowing your soil is fundamental to good grass quality grass growth. Organic manures and the use of legumes can assist towards maximising the return from efficient grass growth, as opposed to spending money on nitrogen input, which in turn links with improved water quality with less leaching.
Dr Owen added that over and above the grassland management aspects, when they visited the contenders of the award, they put great emphasis on people with a positive outlook, who make what they do daily sound easy, and those who were modest about what they do.
Finally, Dr Owen said that farmers should look at using manure more and not always see it as a waste product. He added we need more examples of good slurry management, as slurry is good for farms and the environment if used correctly. He said that you can't underestimate the value of good quality silage and that if we can grow grass we can make a go of anything.
Outgoing NFU Cymru Anglesey County Chairman, Elwyn Evans said: "I'd like to thank Dr Owen for coming to speak with us. It was very interesting to hear his thoughts on good grassland management, and I'm sure everyone went away with some new hints and tips of how to make the most of their grass.
"As this is my last meeting as County Chairman, before my Vice Chairman Brian Bown, steps in to the role, I'd like to thank all members on Anglesey for their help and support over the last three years. It has been an honour to represent members and I look forward to supporting Brian and our new Vice-Chairman Wyn Williams over the coming months.
"Finally, I'd like to thank HSBC for their continued support and sponsorship of all 11 of the NFU Cymru County Conferences."