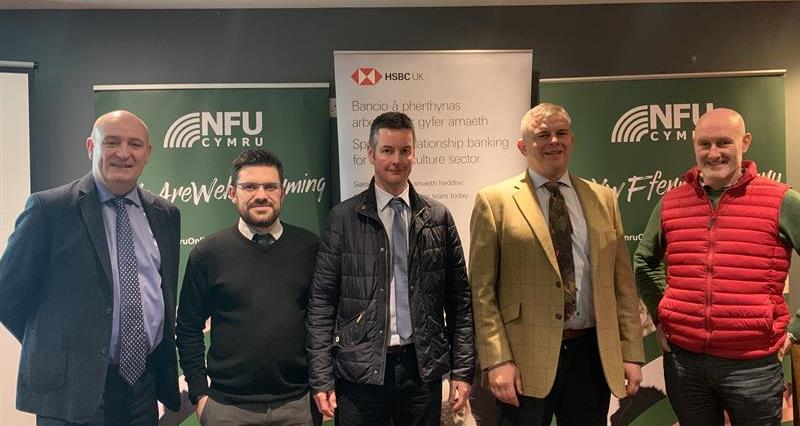 Farmers on Anglesey were given an insight in to soil health and management from Nuffield Scholar and NFU Cymru member, Richard Tudor, at their annual county conference.
Speaking to members at the conference, held at Cartio Môn, Bodedern on Tuesday 7th January, Richard outlined his work during his Nuffield scholarship.
Richard explained that he had travelled all over the world as part of the scholarship, visiting countries including Canada, America, Brazil, Spain, Ireland, the Netherlands, Finland and Sweden. He outlined some of the farming practices in the various countries and said that while on his travels he had a 'eureka' moment and came home with a completely different view of soils.
Richard said: "The importance of soil is seen as a problem for arable farmers and as grassland farmers we tend to jut accept it is there. My dad always says that you have to be a grass farmer before you become a sheep farmer. I think we can add an extra step to that and say you need to be a soil farmer, before you can look at grass, before you can farm sheep."
Grassland makes up 70% of the UK agricultural land and Richard said only 5% of this gets soil tested every year. He said: "Farmers make up a huge percentage of land owners but we don't know much about soils as grassland farmers. Over the past 20 years grass yields have plateaued. There has been no rise in yields but there has been a considerable rise in undesirable mineral balances. Growing the same amount of low-quality grass isn't great."
Richard told members that a healthy soil is made up of 45% minerals, 25% water, 25% air, 4.25% humus, 0.25% organisms and 0.5% roots. He said: "You can't look at each of these in isolation. You need to look at all aspects."
Those in attendance were told by Richard that in his opinion the soil test we use here in Wales is too simplistic. He said: "A healthy soil requires over 20 elements to be healthy and we only focus on three. We need to focus on them all. Soil testing needs to be more comprehensive than it currently is. Organic matter is extremely important for healthy soils."
When it comes to soil pH, Richard said we should all aim for 6.3. He said: "While we should all aim for a soil pH of 6.3, I personally think we should aim higher. At the moment not many reach that 6.3 so if we aim higher, say 6.6, we might get more soil hitting the 6.3 figure.
"Calcium is really important in soil health and we need to go back to basics and apply lime. It can always work the other way, though. An excess of a mineral can be detrimental to your soil health as well. It is very difficult to take something out of the soil and is a lot easier to add in if there is a deficiency.
"The best advice I can give you is to dig a hole. We aren't very good at digging a hole in our own fields but if you do you'll learn so much. You'll pick up smells, colours, the amount of earthworms you have in certain plots, and begin to wonder why they aren't in other places."
Speaking after Mr Tudor, John Davies, NFU Cymru President addressed members on a number of issues currently affecting the industry including water quality, bovine TB, beef prices, Veganuary and the criticism that the farming industry is attracting from certain areas of the media.
NFU Cymru would like to thank HSBC UK for sponsoring all 11 of the union's county conferences.