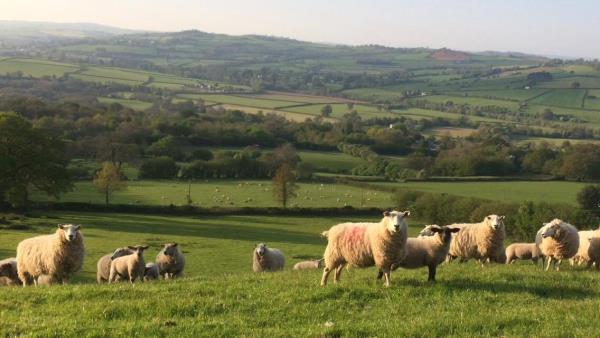 NFU Cymru is calling for the UK Government to secure transitional arrangements to maintain open and frictionless trade with the EU member states post-Brexit.
Speaking on the opening day of the Royal Welsh Show, NFU Cymru President Stephen James said it was 'vital' for the UK to remain within a Customs Union with the EU until a comprehensive Free Trade Agreement is agreed between the UK and the EU.
The importance of maintaining links with the EU was highlighted last week, when figures were released showing Welsh food and drink export figures were up nearly 20% on the previous year to £337.3 million.
NFU Cymru President Stephen James said: "I was delighted to hear of the rise in Welsh food and drink exports. This is great news and testament to the quality of our produce and skill, professionalism and hard work put in by everyone involved in the Welsh food and drink industry, from farm to fork. I am confident that with the right trading conditions our food and farming sector can continue to grow from strength to strength.
"However, in order for this to happen, Welsh agricultural businesses need some certainty to plan ahead. Nearly three quarters of our exports were sold into the EU last year. Farmers, processors and everyone involved in the food industry in Wales need to make decisions now with some idea as to what marketing options will be open to them in 2019. They need to know whether or not their main export markets will be open for business on the 29th March 2019, Brexit day.
"A 'no deal' scenario with our main trading partner is not an option for Welsh agriculture. The implications of moving to the WTO default position of Most Favoured Nation trading status does not bear thinking about. What business could cope with a 46% tariff on lamb, a 65% tariff on beef, a 42% tariff on Cheddar cheese or a 53% tariff on wheat?
"Food is a perishable product and on top of our concerns over tariffs, we cannot afford to see delays in our produce getting on to EU markets through disruptive border checks, processes and procedures that slow down the movement of our produce. We must maintain open and frictionless trade between the EU and UK.
"We firmly believe that the UK Government must now accept the need for transitional arrangements that ensure our markets remain open for business in 2019, thus allowing farmers to plan their production cycles and processors and our promotion bodies to market and sell our produce.
"We believe that this should be achieved through the UK Government and the EU agreeing to a Customs Union until such time that a comprehensive free trade agreement can be agreed and implemented. This would be beneficial to both the UK and EU given the implications on trade for businesses in both the UK and the remaining EU 27.
"Brexit day is just 20 months away and by raising these issues now it gives negotiators the necessary time and breathing space to agree a long-term Free Trade Agreement with the EU and to agree our schedule of obligations with the WTO, as well as managing our transition out of the EU and into our new arrangements preventing the 'cliff edge Brexit' that we all fear is the most likely alternative.
"We know a Customs Union is not perfect - we will not be able to implement new trade deals, and we will be very much bound by current EU arrangements. But, crucially, agreeing to remain in the Customs Union will give government the time to negotiate and agree a Free Trade Agreement with the EU without the constant ticking of a clock that, to all intents and purposes, stops at midnight on the 29th March 2019.
"It has been said that 'no deal is better than a bad deal', but I would say that neither of these options are acceptable to us in Wales. I would ask, for the sake of the 53,000 people employed on farms in Wales, the 223,000 in our food and drink industry and the rural economy supported by thriving farming businesses, that the rhetoric must end and common sense decisions must be taken to allow our food and farming sector to continue to grow and thrive."
In the lead up to the Royal Welsh Show NFU Cymru has released a Vision for the Future of Farming series of policy papers focussing on the future of agriculture post-Brexit. The papers, which focus on the key themes of international trade, a future domestic agricultural policy and labour, are available at www.nfu-cymru.org.uk.