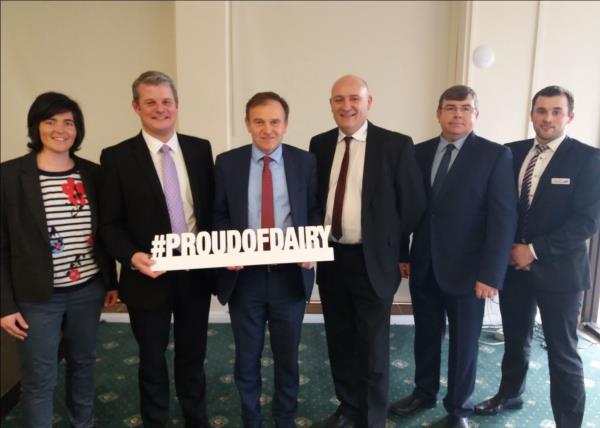 NFU Cymru President John Davies recently met with newly appointed UK Government Minister for Wales, Stuart Andrew MP, and Minister of State for Agriculture, Fisheries and Food, George Eustice MP, at an event kindly hosted by the Royal Welsh Agricultural Society.
Mr Davies used the meeting as an opportunity to highlight to the UK Government the importance to the Welsh food and farming industry of maintaining free and frictionless trade for Welsh food and drink exports following the UK's departure from the EU in March 2019. Speaking after the meeting Mr Davies said: "Welsh farmers are deeply concerned at the possibility of barriers being put in place that impact on our ability to access EU markets post Brexit. First and foremost we would ask that the UK Government secures tariff-free and frictionless trade for our produce entering EU markets, once this is secured we can then begin to look at the opportunities to open new markets.
"The meeting was also a good opportunity to discuss how we can improve the competitiveness, efficiency and productivity of Welsh and British agriculture, I was pleased that Mr Eustice recognised the need to ensure that funding for Research and Development should be linked to how the R&D finds its way back to the farmer through advanced knowledge exchange programmes.
"We also talked about the need for fairness throughout the food supply chain, the need for robust market data and the opportunity that Brexit provides to increase the proportion of Welsh and British produce used within the public sector.
"The meeting was a fantastic opportunity to meet with our new UK Government Minister for Wales, Stuart Andrew MP, who we look forward to working closely with going forward, and to welcome the UK Agriculture Minister to Wales. It was good to discuss with both Ministers some of the issues that the UK Government have responsibility for in supporting the food and farming industry, most importantly in securing a trade deal that will allow us to continue to increase our exports and this help us to continue to grow our £7 billion Welsh food and drink industry in Wales."